Confusion Continues for Obamacare Health Exchange Rollout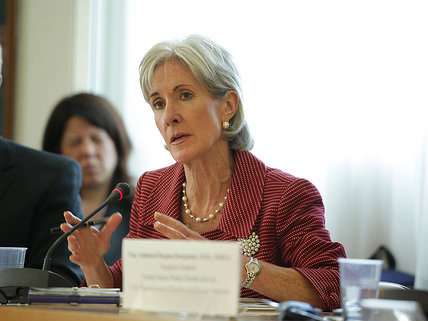 Originally, Obamacare's deadline to sign up for health coverage that takes effect in January was December 15. That date was pushed to December 23. Last week, the administration also announced that insurers selling policies through the law's exchanges would have to accept payment as late as December 31 for coverage that begins on New Year's Day.
These delays were generally supposed to ease the transition into the new insurance regime following the multiple technical and administrative troubles that have afflicted the rollout of the exchanges.
But as USA Today reports, there's still a fair amount of confusion about who is signed up and who has paid for coverage through the federal exchanges:
Some frustrated consumers are sending premium payments to insurers who have never heard of them. Others say they will pass up federal subsidies and pay full price through insurers, while still others have given up altogether on the promise of health insurance by Jan. 1.

Consternation and confusion over applications sent through the federal HealthCare.gov website continue into the last seven days before the Dec. 23 enrollment deadline. Consumers with health issues are particularly nervous about the prospect of not having insurance at the start of the new year. Federal assurances last week about a "special enrollment period" for people whose applications have been hung up on the site are little comfort as neither insurers nor consumers have any idea how this will work and who will qualify.
Meanwhile, we continue to see problems in the state-run exchanges. Earlier this month, the head of Maryland's health insurance exchange stepped down following a problem-plagued rollout in the state. The move followed the resignation of the top exchange official in Hawaii, another state which has had trouble getting its exchange up and running. Yesterday, the head of Minnesota's state-run exchange also resigned, reports MPR News:
The head of Minnesota's health insurance marketplace resigned Tuesday after facing criticism over the troubled rollout and a questionably timed vacation in Costa Rica.

April Todd-Malmlov submitted her resignation during an emergency closed session of the government board of MNsure, Minnesota's version of the insurance exchange that's tied to the federal health care overhaul. She had been under increasing pressure over insurance sign-up problems and failed to get a vote of confidence from Democratic Gov. Mark Dayton last week.
No federal officials have yet been fired over the botched rollout of the federal exchange, which performed even worse than the vast majority of the states.