How Poker Became a Crime
The capricious federal crackdown on the Internet version of an all-American game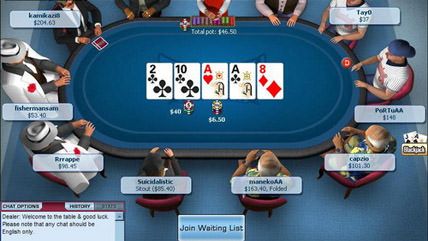 Straight Flush: The True Story of Six College Friends Who Dealt Their Way to a Billion-Dollar Online Poker Empire-and How It All Came Crashing Down, by Ben Mezrich, William Morrow, 288 pages, $17.99
After Congress passed the Unlawful Internet Gambling Enforcement Act in 2006, experts disagreed about the extent to which it affected the legal risks facing businesses that dared to let Americans place bets online. The law created a new federal crime, punishable by up to five years in prison: accepting money in connection with "unlawful Internet gambling" while "engaged in a gambling business." But it left the definition of unlawful Internet gambling as fuzzy as ever. Of particular relevance for the protagonists of Straight Flush, Ben Mezrich's gripping, fast-paced account of Absolute Poker's rise and fall, the Unlawful Internet Gambling Enforcement Act did not make it clear whether the online poker business in which they had invested so much time, effort, and money was now to be treated as a criminal enterprise.
Federal law does not explicitly say whether poker, a game in which skill is more important than luck, qualifies as gambling, let alone illegal gambling. For years the U.S. Justice Department implausibly argued that online poker was illegal under the Wire Act of 1961, which prohibits using "a wire communication facility" to accept bets "on any sporting event or contest." In a September 2011 memo, the Justice Department finally admitted that "the Wire Act prohibits only the transmission of communications related to bets or wagers on sporting events or contests." The following year, in the first decision by a federal court to address the issue, U.S. District Judge Jack Weinstein ruled that poker is not covered by another federal statute, the Illegal Gambling Business Act of 1970, because it is "predominately a game of skill." Weinstein therefore threw out the conviction of Lawrence DiCristina, the operator of a Staten Island poker room.
So how did Scott Tom and his stepbrother Brent Beckley, two of the college buddies behind Absolute Poker, end up named in a federal indictment? A clue can be found in what ultimately happened to DiCristina. In August 2013 the U.S. Court of Appeals for the 2nd Circuit overturned Weinstein's decision, concluding that criminal liability under the Illegal Gambling Business Act hinges on state definitions of illegal gambling. Since running a poker game for profit is illegal in New York, the 2nd Circuit said, DiCristina had violated federal law as well.
Preet Bharara, the U.S. attorney for the Southern District of New York, used the same legal theory against Tom and Beckley. According to an indictment unsealed on April 15, 2011 (known as Black Friday within the online poker community), Tom and Beckley violated the Illegal Gambling Business Act by letting New Yorkers play for money on their website, which was run from servers in Costa Rica. For good measure, Bharara threw in charges under the Unlawful Internet Gambling Enforcement Act, which applies to transactions for gambling prohibited by the jurisdiction in which bets are "initiated, received, or otherwise made."
According to the U.S. government, in other words, the very feature that made online poker innovative-its availability 24 hours a day, anywhere in the world, from the comfort of players' homes-also made it criminal. Thus the Absolute Poker case, in addition to reprising the age-old clash between fun and paternalism, illustrates the limits of technology in countering rigid, anachronistic law-and vice versa.
Mezrich, whose engaging, novelistic style brings home the human consequences of the moralistic crusade against online gambling, traces Absolute Poker's story from its beginnings at the University of Montana, where Tom and his collaborators were members of the same fraternity in the late 1990s. Tom began thinking about starting an online poker business after he discovered Texas hold 'em in the back room of a Missoula bar, had a blast playing, and noted the money earned by the house through the small percentage it took from each pot.
If people could play any time of day, no matter where they happened to be, he figured, the profit potential would be huge. A few poker websites already existed, but Tom thought it could be done better, with sharper, more sophisticated graphics and smoother game play. Tom and his friends worked hard for years to realize that dream, and eventually they were running one of the top three online poker businesses serving the United States. They were months away from a $1 billion stock offering when Bharara, the U.S. attorney, put an end to it all.
Various people tried to discourage Tom along the way, insisting there was no real money to be made in online poker. Poker, after all, is a social game, and much of the skill it requires involves reading opponents' gestures and expressions. But the naysayers were wrong. Players flocked to sites like Absolute Poker, eager to test and hone their skills against opponents from across the country and around the world. Some even made a decent second (or primary) income by playing online, although for the most part their winnings (and losses) were small.
Since online poker sites operated in a legal gray area, success required not just creating a fun and convenient playing environment but building and maintaining a reputation for honesty and reliability. Customers had to be confident that their money would not disappear into the clutches of a fly-by-night scam artist, that their winnings would be credited immediately and could be cashed out promptly whenever they wanted. Tom understood that customer trust was crucial, and Mezrich portrays him as deeply shaken by the cheating scandals that plagued Absolute Poker and Ultimate Poker, a business it acquired in 2008. Both scandals involved company insiders with access to information about players' hole cards.
"It was appalling, and personally devastating to Scott, whose reputation was now being trashed on the poker blogs," Mezrich writes. "The perception that he would somehow knowingly be involved in betraying the company he'd built-a company that was now bringing in two million dollars a day-by cheating his players was difficult to bear." Tom tried to repair the damage by separating himself from management of the company, a painful decision for an entrepreneur who had created a thriving business from scratch.
Bharara targeted Absolute Poker, along with two of its competitors, PokerStars and Full Tilt Poker, because it was one of the most successful companies in the U.S. market. The only way to achieve that status was by earning players' trust. Hence the Black Friday indictment added insult to injury by charging Tom and Beckley with fraud as well as gambling offenses.
The supposed fraud consisted of enlisting payment processors who concealed the nature of Absolute Poker's transactions to avoid spooking increasingly gambling-shy financial institutions. It was a strange sort of fraud, injuring no one (since the banks earned their usual fees) and necessary only because of the U.S. government's arbitrary crackdown on the Internet version of a game enjoyed by cops, prosecutors, and judges across America.
The real threat to players came not from Tom and Beckley but from Bharara, who took control of the poker companies' domain names and froze their accounts, including their customers' money. The Justice Department eventually allowed PokerStars, as part of a settlement, to pay back its customers. After PokerStars acquired Full Tilt Poker's assets, it gave the Justice Department money to compensate that company's customers as well. But the feds are taking their time distributing the funds.
In July the Garden City Group, which is processing the claims, said players would be waiting another year or two, although two weeks later it said reimbursements would begin "shortly." Absolute Poker's customers presumably will have to wait even longer, since the Justice Department did not reach a forfeiture settlement with the company until July 16, 2013.
Six months after Black Friday, Bharara unveiled new fraud charges against Full Tilt Poker, alleging that the company did not keep enough money on hand to cash out its customers. "Full Tilt was not a legitimate poker company," he charged in a press release, "but a global Ponzi scheme." In Bharara's eyes, however, there was no such thing as "a legitimate poker company," at least not in the Internet context. According to him, any company that served online poker players in the U.S., no matter how scrupulously honest it was with its customers, was a criminal enterprise. In the name of protecting the interests of consumers, Bharara created serious financial inconvenience for online poker players while preventing them from spending their spare time and money as they wished.
Bharara was able to put Absolute Poker out of business by seizing its websites, but prosecuting its principals was another matter. They were living outside the United States, in places where poker was not considered a crime.
Tom remains out of reach, living on the tiny Caribbean island of Antigua, which had its own legal dispute with the U.S. government regarding online gambling. (The World Trade Organization sided with Antigua, saying American attempts to shut down foreign companies offering online gambling was a form of impermissible protectionism.) Beckley could have stayed in Costa Rica but decided to turn himself in because he wanted a chance to live in the United States with his foreign-born wife and children, which the Justice Department promised to allow. In July 2012 he was sentenced to 14 months in federal prison. He was released last June, two months early, thanks to credit for time served and good behavior.
The opening and closing chapters of Straight Flush, which describe Beckley's surrender, vividly convey his shock, fear, and confusion at being transformed from a legitimate businessman into a felon by government fiat. "None of them could have ever imagined how quickly something so simple could become something huge-or how equally quickly it could all come crashing down," Mezrich writes. "Now Brent was counting rivets in a prison cell, his brother had sequestered himself on an island the size of a Minnesota shopping mall, and the others had scattered all over the world, facing futures as uncertain as his own."
And for what public benefit were these businesses and lives ruined? PokerStars, one of the companies targeted by Bharara, has swallowed Full Tilt Poker and settled with the government in preparation for re-entering the U.S. market with official approval. Now that the Justice Department admits that online poker violates federal law only when it runs afoul of state law, the door is open to companies that serve players in poker-friendly states.
Last spring a subsidiary of Station Casinos began offering online poker to players in Nevada. The operation, which was blessed by the Nevada Gaming Commission, is called Ultimate Poker. New Jersey and Delaware also plan to license poker websites. At first these sites will serve players only within the states where they are licensed, but there should be no legal barrier to multistate online poker as long as IP addresses in jurisdictions that frown on the game are blocked.
Maybe Absolute Poker could have offered a similar technical fix, but no one asked. Tom and his friends did not know Bharara considered them criminals until he unveiled his indictment, and no state or federal official ever suggested that they stop accepting customers from certain jurisdictions. In any case, at the time the Justice Department was still insisting that all forms of online betting were banned by the Wire Act.
Thanks to the government's turnaround on that issue, which was prompted by state inquiries about the legality of using the Internet to sell lottery tickets, offering online poker to Americans can now earn you a fortune, as opposed to exile or a year in prison and a felony record. In the end, the anti-gambling moralists were defeated by the difficulty of blocking objectionable data on a worldwide computer network, combined with the game's appeal to both players and investors. As Mezrich points out, the industry's legitimization got a big boost from popular fascination with the World Series of Poker, which in turn was facilitated by the hole cam, a 1994 invention that made it possible for viewers of televised tournaments to see players' down cards.
Tom and his friends were not oblivious to the legal risks of starting an online poker business, but it was hard for them to believe the feds would target a game that was increasingly perceived as a wholesome, all-American pastime. Describing the legal advice that Tom got when he started to look for investors, Mezrich writes, "There was a consensus that if there wasn't a law that said you couldn't do it, it was presumed to be perfectly legal." The crew behind Absolute Poker perceived themselves as more legitimate than the "shady" guys running sports betting sites, even though all of them chose to serve Americans from outside the United States.
In retrospect, this nonchalance seems tragically naive. But Mezrich shows that Tom and his buddies were so focused on creating value for their customers and building a reputable business that they had little time to worry about how a U.S. attorney with too much time on his hands might interpret federal gambling statutes. Ultimately it is Bharara, acting on his haunting fear that somebody, somewhere may be playing poker, who looks foolish and contemptible, not the hard-partying frat boys who tried to get rich by giving people what they wanted.