Obamacare's Enrollment Numbers Aren't Real Enrollment Numbers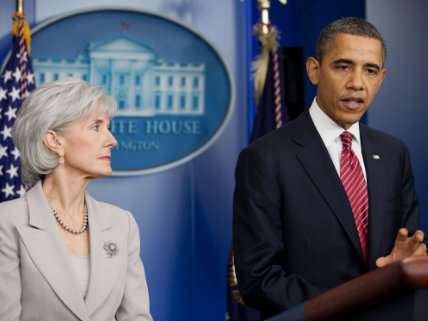 So far, the administration has consistently refused to release information about actual health insurance enrollment through Obamacare. But as Scott Shackford noted, multiple news outlets are now reporting that, according to knowledgable sources, somewhere in the range of 40,000 to 50,000 people have enrolled in health insurance through Obamacare's problem-plagued federally facilitated exchange system,
These aren't official numbers, although an official release is expected sometime this week. But taken at face value, and presuming they are accurate, they indicate that Obamacare is struggling so far to meet its enrollment goals. An internal document released earlier this month by Rep. Dave Camp (R-Michigan) noted that the administration's goal for the first month was 500,000 enrollees. Combine the reported federal enrollments with the 49,000 people estimated to have enrolled in state-based exchanges, and you still have less then twenty percent of the administration's enrollment goal.
But these numbers shouldn't be taken at face value. That's because the administration isn't actually counting enrollments. Instead, it's counting the number of people who have placed health plans in their online shopping carts—not necessarily people who have signed up and agreed to be billed, and certainly not people who have actually paid the premium for the first month of coverage. It's the equivalent of Amazon counting a TV sold every time someone puts a TV in his or her online shopping cart, regardless of whether or not they actually go through the checkout process.
Now, there's some legitimate room for debate and disagreement about the best way to count enrollments. The best way to understand the different methods is to look at some of the counts we've seen for the District of Columbia, which is running its own exchange apart from the federal system.
According to documents made public by the Senate Finance Committee last week, only five people had enrolled in private insurance through the D.C. exchange.
That's a pretty small number. But it doesn't provide the entire picture. What that means, as The Washington Post's Sarah Kliff noted last week, is that five people have enrolled in plans and paid an initial premium by October 21. However, a significantly larger number—164 people—have selected plans and agreed to be billed. They just haven't paid their premiums yet. And an even greater number—some 321 people—have moved to the shopping cart stage, selecting a plan and putting it in their cart, but not agreeing to be billed.
I'm willing to believe that the majority of those 164 people who have picked a plan and told an insurer to send them a bill will end up with coverage. But the federal government is trying to count people from the much larger third category—the group that in D.C. encompasses the 321 people who have merely picked a plan and put it in a virtual shopping cart.
If D.C.'s numbers are relatively representative—and, granted, it's possible that they may not be—then the actual number of people who have gotten to the billing stage is only about half the number who have simply selected a plan. So it's entirely plausible that the actual enrollment in the federal exchanges is more like 20,000-25,000 people.
And that's presuming that everyone who agrees to be billed actually pays for their coverage. Which is not a foregone conclusion.
As Jon Kingsdale, who ran the Massachusetts health exchange for years and helped advise the federal government on Obamacare, wrote in The Washington Post over the weekend, "Tracking billing and collections was a much bigger challenge than getting our Web site to work." And Kingsdale thinks the collections effort will actually be harder in the federal system:
Enrollees are not covered until their first month's premium is received. In the individual insurance market, premium billing and collection is difficult to track. Folks frequently pay late or in weekly installments, or send too little or even too much. And when they stop paying, they often do not notify the insurer; the company must determine whether it is an intentional termination, an oversight, or a lost or late payment. Unlike most of today's 15 million direct enrollees, who pay premiums on their own, an estimated 27 percent of those who will be eligible for tax credits under the ACA do not have checking accounts. So they must use cash, money orders or prepaid debit cards to pay their share of monthly premiums.

Under the health-care law, premium billing and tracking will be even tougher. There are hundreds of prices across each of the thousands of plans in the federal marketplace. Having enrollees pay partial premiums, and the IRS issue tax credits for the rest, means twice as much billing. Calculating subsidies based on personal income tax filings also creates security issues: In addition to the problems with verifying consumers' identities online, which have created delays on HealthCare.gov, tens of thousands of unlicensed "navigators" are fanning out across the country to help folks enroll. Many of these people don't have to submit to thorough background checks, although they will gain access to personal financial information.
The point is that even by the administration's standards, these early enrollment figures aren't good. And because of the administration's chosen counting method, it's almost certain that they are actually worse than they seem.