The Use of Approved Electronic Devices Is Now Permitted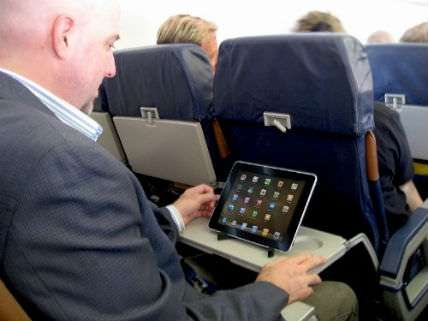 Yesterday the Federal Aviation Administration (FAA) announced the end of its annoying, frequently flouted, and seemingly arbitrary ban on the use of portable electronic devices by airplane passengers at altitudes below 10,000 feet. It says travelers should be free to play games, listen to music, watch movies, and read ebooks throughout flights by the end of the year. First each airline has to certify that the electromagnetic energy generated by smartphones, MP3 players, and iPads does not interfere with its planes' "highly sensitive communications, navigation, flight control and electronic equipment." This is the same approach that European regulators have taken for years. Notably, the FAA does not anticipate that any airlines will be unable to show that it's safe for passengers to use electronic devices at any altitude. 
Which makes you wonder: Was there any real basis for this concern about interference to begin with? In a 2012 survey of people who had flown in the previous year, 40 percent admitted that they had left their electronic devices on throughout the flight, while 7 percent said they had not even bothered to put their phones in airplane mode. The FAA says "there are reports of suspected interference to communication and navigations systems in both the NASA Aviation Safety Reporting System and the FAA's Service Difficulty Reporting system." But even though many passengers have routinely disobeyed the restrictions on electronic devices for many years, as far as I can tell no one has ever cited an actual mishap related to such infractions.
The ban on using phones for voice communication remains in place, but there does not seem to be a safety rationale for that rule either. "Cell phones differ from most PEDs [portable electronic devices] in that they are designed to send out signals strong enough to be received at great distances," the FAA says. But while passengers will still officially be expected to turn off the wireless functions of their devices (except for Bluetooth), FAA Administrator Michael Huerta concedes "there's no safety problem if they're not," although he warns that "you're going to arrive at your destination with a dead battery" because your phone will keep looking unsuccessfully for a signal.
In fact, the rule requiring de-activation of wireless capabilities was imposed by the Federal Communications Commission, not the FAA. The FCC says "the ban was put in place because of potential interference to wireless networks on the ground." The FCC has considered lifting the ban but concluded in 2007 that "the technical information provided by interested parties in response to the proposal was insufficient to determine whether in-flight use of wireless devices on aircraft could cause harmful interference to wireless networks on the ground." The FAA says its PED Aviation Rulemaking Committee "did recommend that the FAA consult with the [FCC] to review its current rules."