The Obama Administration Never Ran a Complete Test of Obamacare's Federal Exchanges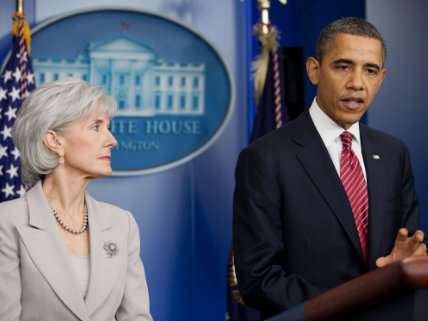 Did Obamacare's federal exchange system ever work?
We're now getting a sense of how rushed and haphazard the rollout of Obamacare's exchanges really was: The administration never tested the complete user experience of the federal exchanges at all before the system launched. According to a Business Week source, the federal exchange system "went live without attempts to replicate a customer's complete experience."
Separate tests that were run, meanwhile, failed. The Washington Post reported yesterday that a trial run intended to see whether the system could handle large numbers of simultaneous users crashed when just a few hundred simulated users were logged in.
The administration took the site live anyway, despite insurance industry warnings and suggestions that perhaps a delay or a limited rollout would help mitigate potential troubles.
The technical problems are probably fixable, eventually. But at this point, it's increasingly looking as if repairs could take a rather long time. A Bloomberg story on the continuing woes for the exchange suggests that the administration may need to "take portions of the system off line for days or weeks."
Health and Human Services Secretary Kathleen Sebelius, meanwhile, helps outline the enormity of the task. Via The Wall Street Journal:
The online insurance marketplace needed five years of construction and a year of testing, [Sebelius] said: "We had two years and almost no testing."
So it's not exactly surprising, then, that another major technical component of the exchanges is being delayed yet again. The exchange system was supposed to interface seamlessly with state-run Medicaid programs. But that functionality, already delayed until November 1, has now been further delayed, according to The Washington Post. Senior administration health officials now say they have no idea when it will be ready.
In the meantime, the administration is telling people who want to enroll to call the Obamacare help line. But that's not very helpful. As a report by Jeffrey Young in The Huffington Post notes, phone help and enrollment assistance workers "are reliant on the same faulty technology that consumers confront when they visit HealthCare.gov. If the website won't let a call center operator or a navigator access the system to apply for financial assistance or review the real prices of the actual health insurance plans sold in a consumer's local area, the process must be paused and resumed later."
So despite repeated promises from multiple senior members of the administration that the federal exchange system was on track, on time, and would work, it's now clear that not only does the system not work, it never worked—not even in testing. And the workarounds they've proposed aren't going to work either.