Workers Attempt To Block Off WWII Memorial Again (UPDATE: Vets Back In)
But more veterans are coming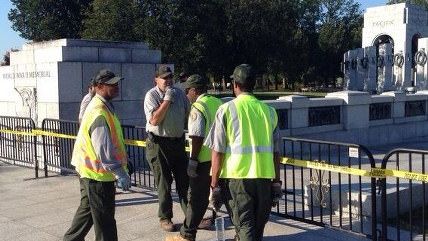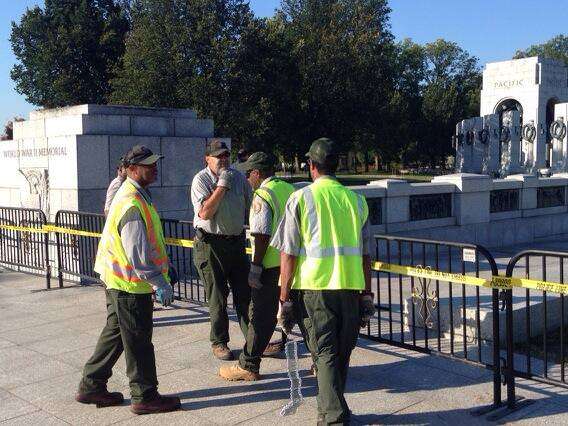 Yesterday, the sight of a group of World War II veterans storming the barricaded monument built in their honor in Washington, D.C., became the buzzworthy moment from the first day of our federal shutdown. The open-air, unmanned outdoor memorial had been barricaded to keep people from "visiting" due to the government shutdown, though there was no real (as in "non-political") reason to have done so. Barricades certainly wouldn't prevent vandals from busting in there at night if they wanted to. It was an absurd, petty move.
This morning, Charlie Spiering of the Washington Examiner returned to the memorial to find a gaggle of "essential" government workers there to barricade it once again. He tweeted that the employees fled after cameras started filming them working, but then came back to attach "closed" signs. A couple of them appear to be talking to the media. The barricades are apparently there, but have not been tied together and are therefore easily removed.
The visits from the veterans aren't over, either. Spiering reported that more veterans will be visiting the memorial throughout the month of October, with the assistance of the charity Honor Flight. Former Reason TV staffer Dan Hayes has made a full-length documentary about Honor Flight's efforts (see more here). Below, a shorter piece Hayes produced while still here at Reason in 2009:
UPDATE: According to a picture on Twitter from Cox Radio reporter Jamie Dupree, visiting vets are back inside the memorial.