Even More Delays For Obamacare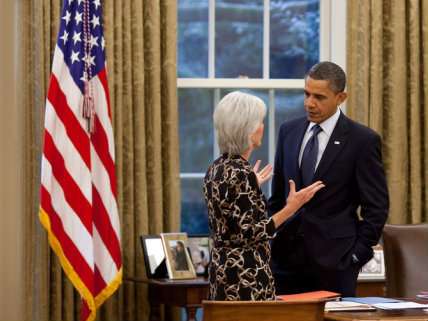 The Obamacare delays keep piling up. On the same morning that President Obama gave a speech touting the benefits of his health care overhaul, and lambasting Republicans for seeking to postpone its implementation, news leaked that the administration would postpone yet another provision of the law on its own.
In yet another sign of the difficulty federal and state governments are having with the law's technical implementation, online enrollment for some of the law's small business health exchanges will be delayed, according to Politico. Both the small business exchanges and the individual exchanges were scheduled to begin enrollment next Tuesday. Small businesses will still be able to enroll via a paper form.
It's the second significant Obamacare delay announced already today. The District of Columbia, which along with a minority of states is running its own exchange, announced this morning that it would not begin online enrollment next week as originally planned.
The reason is that the enrollment technology designed to judge eligibility for subsidies or Medicaid isn't working correctly yet. An official with the DC exchange told The Wall Street Journal that system still has a "high error rate." As a result, the exchange will still accept applicants, but they won't be informed of their eligibility for subsidies until sometime in November.
As the Journal notes, it's the third non-federal exchange to announce a delay: "Two other states that are running their own exchanges—Colorado and Oregon—have already announced delays. Colorado said this week that people who want to apply for a tax credit will have to work through the state's customer-service center for at least the month of October." Oregon's online enrollment won't open on time either.
And what about the federal exchanges that will operate in a majority of states? Reports suggest those exchanges are having technical trouble too. Last week the Journal reported that system testing began late, and they are also having trouble calculating prices for subsidized insurance in the system.
The administration has vehemently denied reports that enrollment won't begin next week. When JP Morgan suggested last week that enrollment may not start on time, a federal health official told Politico that the "report is totally false. Open enrollment in the Health Insurance Marketplace will begin on October 1." But it's worth noting that the denial didn't claim that full-fledged online enrollment would begin as scheduled. We'll know in just a few days.
Today's delays are the latest in a line of postponements for the health law. Key functionality in the small business exchanges was delayed earlier this year, as was the employer mandate. The administration also delayed some of the income and insurance-status verification requirements in the exchanges.
But of course it's crazy to even think of suggesting that a broader delay might be in order.