Obamacare's Insurance Exchanges Can't Price Insurance Properly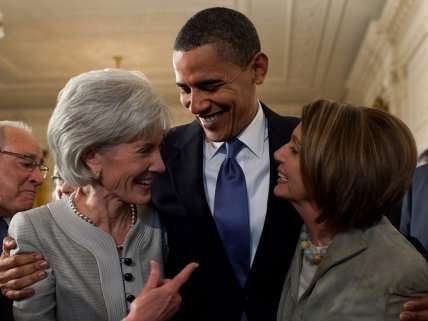 Obamacare's exchange technology was always going to be trouble. The law's boosters have suggested that comparing and buying insurance through the online health insurance exchanges will resemble comparing and purchasing travel accommodations through a web portal like Travelocity. That's an oversimplification; it will probably be more like doing your taxes online.
And that's if it even works. Which it may not.
For months, we've seen reports of lags and delays in the effort to get the exchanges up and running. And now, with less than two weeks to go, The Wall Street Journal reports that the pricing systems in the federally run exchanges that will operate in 34 states aren't working:
Four people familiar with the development of the software that determines how much people would pay for subsidized coverage on the federally run exchanges said it was still miscalculating prices. Tests on the calculator initially scheduled to begin months ago only started this week at some insurers, according to insurance executives and two people familiar with development efforts.

"There's a blanket acknowledgment that rates are being calculated incorrectly," said one senior health-insurance executive who asked not to be named. "Our tech and operations people are very concerned about the problems they're seeing and the potential of them to stick around."
The pricing calculator is being developed by a government contractor, CGI Group, Inc., which has so far received $88 million to help build the exchanges, according to the Journal. But that's less than a quarter of the total amount spent building the exchanges, which the Government Accountability Office put at $400 million earlier this year.
But so far, at least, it appears to be an expensive failure.
Now, the exchanges aren't open yet. So maybe everything will be fixed and ready to go next month when the exchanges actually open for enrollment. But that's less than two weeks from now. And as the Journal's report notes, tests on the calculator functionality were supposed to run for months, yet in some cases only began this week. That tells you how long the exchange designers initially thought would be necessary to make the calculator work. And it suggests that getting all the functionality up and running in the short time available will be a serious challenge.
If the online calculator doesn't work, what then? The Journal's story suggests that it may not be that big a deal: "People may still be able to sign up offline, even if the online exchanges aren't fully functional at first, several insurers said. And consumers have until mid-December to sign up for policies that start on Jan. 1."
All true. But let's put this in context. This isn't some minor coding glitch. The primary selling point—practically the entire point—of the exchanges was to create an online comparison shopping system for health insurance. A White House brochure on Obamacare's benefits explains that the exchanges offer "one-stop shopping" that provides families the ability to "easily compare prices, benefits, and performance of health plans." The purpose of the exchanges is to allow "millions of Americans to comparison shop," explains a White House guide to the health law.
Comparing prices, in other words, is the central feature of the exchange. But you can't comparison shop if the pricing isn't accurate. The whole thing breaks down. Basically, Obamacare's exchanges have one job. And so far, at least, it seems they aren't able to do it.