Dennis Rodman Returns to North Korea, Says He's Just There to "Have a Good Time"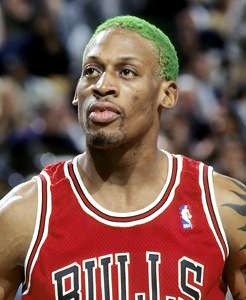 Basketball player Dennis Rodman made a trip to North Korea earlier today.
The meeting comes as a surprise, as tensions between the United States and North Korea rose to the point that planned diplomatic talks between the two nations were recently canceled.
The Associated Press (AP) reports:
Rodman was greeted at Pyongyang's airport by Son Kwang Ho, vice-chairman of North Korea's Olympic Committee, just days after Pyongyang rejected a visit by a U.S. envoy who had hoped to bring home Kenneth Bae, an American missionary jailed there. The North abruptly called off the official visit because it said the U.S. had ruined the atmosphere for talks by holding a drill over South Korea with nuclear-capable B-52 bombers.
The former NBA star insists that his purposes are entirely friendly. "I just want to meet my friend Kim, the marshal, and start a basketball league over there or something like that," said Rodman, according to the AP.
"I have not been promised anything," he said in regards to the release of Bae. He reiterated, "I'm not there to be a diplomat. I'm there to go there and just have a good time, sit with (Kim) and his family, and that's pretty much it."
Rodman first visited the secretive nation in February in order to promote basketball and film a documentary with Vice. Despite displeasure expressed by the U.S. government over the highly-publicized visit, Rodman insisted that he could "show people around the world that we as Americans can actually get along with North Korea." During his visit, he befriended authoritarian ruler Kim Jong Un over their mutual interest in sports. He said the North Korean leader is "a friend for life."
Rodman suggested after the visit that the White House should also try playing "basketball diplomacy," and that President Obama could "pick up the phone and call" Kim just to talk about sports.