India's Budget Academies
The private schools that educate the subcontinent's poor are under attack.
International Aid and Private Schools for the Poor: Smiles, Miracles and Markets, Pauline Dixon, Edward Elgar: Cheltenham, UK, 208 pp., $99.
India's public education system made international headlines this summer when 23 children died after eating poisoned school lunches in the village of Gandaman in Bihar. The Indian government's lunch program serves 120 million children; it is supposed to improve their nutrition levels and boost school attendance. Yet the program has been plagued by corruption at every level and suffers from poor sanitation and poor quality food in many schools. In the Gandaman deaths, the principal's husband allegedly provided the school with contaminated food and cooking oil stored in pesticide containers in exchange for government dollars.
It was a particularly ugly example of how awful India's public school system can be. Fortunately, families have an alternative. In India, as in other developing nations, parents are voting with their feet and sending their children to low-cost, entrepreneurial "budget" schools. In rural India, 24 to 40 percent of children are enrolled in private schools. In poor urban areas, the figure is at least 65 percent. These low-cost private schools provide even the poorest parents value for their investment. (To give just one example, they are much likelier than government schools to provide instruction in English, a skill that can raise hourly wages by 34 percent.) Pauline Dixon's meticulously researched International Aid and Private Schools for the Poor is both a critique of India's government schools and a guide to these grassroots alternatives.
Dixon, a senior lecturer in international development and education at Newcastle University, starts with a history of Indian schooling. The country once had a robust system of private schools that covered the majority of children, she explains, but that the British government, in Gandhi's words, uprooted the "beautiful tree" of indigenous Indian education. Next, Dixon documents the corruption and low performance in the current government-run school system and the extent to which private low-cost schools have filled the gap for poor parents with better facilities, instruction, and performance than their state-run counterparts.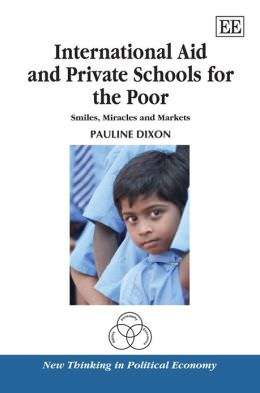 Dixon carefully details studies that demonstrate the low quality of government schools, including such problems as teacher absenteeism, lack of teacher commitment, and inadequate conditions. For example, a study of primary education in West Bengal found that in some rural areas of India, "in only 53 percent of government schools was there any teaching going on at all." A World Bank study found teacher absentee rates of over 25 percent in rural India and over 22 percent in urban areas. In Calcutta, a study team found that out of 162 government-run primary schools, 59 percent had no functional water supply and 89 percent had no toilets. Studies of private schools in Hyderabad, Delhi, and Mahbubnagar, by contrast, found that all private schools including low-cost budget schools had much higher rates of teaching activity and lower rates of teacher absenteeism. Low-cost private schools, including those that have not been formally "recognized" by the government, are likely to provide better conditions for students, including clean drinking water, toilets for children, electric light, and desks. Both recognized and unrecognized schools were more likely to have computers and televisions for instructional purposes. An Indian study carried out in 20 rural states found that private schools' students scored significantly higher on tests as well.
In 2010, India passed the Right to Education (RTE) Act, aimed at providing free and compulsory schooling for every Indian child between the ages of 6 and 14. The law recognized the growth and effectiveness of the private education sector by requiring recognized private schools to set aside 25 percent of school enrollment slots for disadvantaged children, for whom the government will pay the cost of tuition. But what initially seemed like an encouraging development has turned into a powerful case study of the ways that governmental aid can undermine the private education market.
The RTE Act requires all private schools to be "recognized" by the government. In order to become recognized, private schools must meet costly infrastructure regulations, such as square footage requirements and mandatory playground equipment. Instead of expanding choice, the Indian government is now undermining opportunities for the poor by shutting down private schools unable to comply with the new rules. Headlines like "880 public schools to be shut down in Andhra Pradesh" and "473 private schools to be shut down in Punjab" rang out in India's media this year.
Not all non-compliant schools are being treated equally, however. Parth J. Shah, president of Centre for Civil Society, explained in a recent interview that about 300,000 unrecognized schools have not been able to meet the infrastructure requirement of RTE Act. Yet so far very few have actually been closed down. What's more, some of the shuttered schools reopen after a couple of weeks. How can this be?
Bribery. Government officials simply collect money and allow the schools to remain open. "The bribe amounts will continue to increase," Shaw predicts. And some of the costs "will be passed on to poor parents in terms of higher fees and will push these parents out of the private school market thus limiting access for poor. So much for government's attempt to guarantee education to every child!"
In India, public schooling is heavily subsidized by international aid dollars. Since 2003, for example, more than $2 billion in aid from the likes of the World Bank, the European Commission, and the U.K.'s Department for International Development (DFID) went to fund India's Sarva Shiksha Abhiyan, a program aimed at establishing universal elementary education. The U.K. alone will spend more than $335 million on Indian education between 2011 and 2015. According to a report released in May 2011 by the Indian government, no less than $110?million of the DFID's $600?million general aid program had been lost or stolen. Much of the cash had been allocated to schools that did not even exist. There is little evidence all this foreign money is helping to improve schools, since attendance by pupils and teachers is still dismally low. In fact, more children are fleeing for private schools every year, even as well-intentioned money from around the world pours into the failing public option.
Dixon calls for redirecting international aid to the low-cost private schools, through vouchers or cash transfers to the poor; for improving the schools' quality through microfinance loans; and for investing in independent evaluators that could provide parents with more information about different schools' quality. But Dixon's evidence of corruption—in the public schools and in the international aid sector—is so compelling that it is hard to envision any kind of redirection of international aid that would not ruin the low-cost private education market or simply regulate it out of existence.
Dixon's book leaves the reader with the sense that families must remain the key to the flourishing private education system. In July, The Wall Street Journal reported on the recovery of Rashmi Kumari, a 5-year-old who was hospitalized after eating the contaminated lunch in Gandaman. Her uncle told the Journal, "We will put her in a new private school. It's nearby our village."