Yes, Obamacare Could Affect You—Even if You Already Have Health Insurance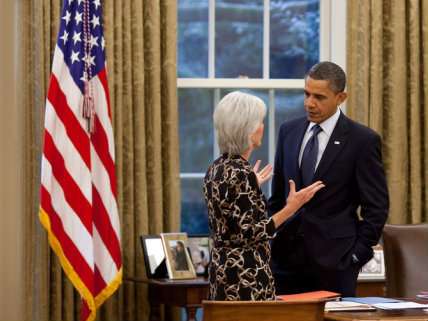 Obamacare's defenders, including President Obama, have recently begun making an argument intended to comfort Americans who might be concerned about the law: It simply won't be a big deal for those who already have insurance. If you're part of the majority of individuals who get health insurance through an employer, the law's only affect will be to increase some of the benefits that are available to you, and ensure that you can get coverage if you lose your job.
"If you're one of the nearly 85 percent of Americans who already have insurance, either through Medicare or Medicaid or your employer," Obama said in June, "you don't have to do a thing. You've just got a wide array of new benefits, better protections and stronger cost controls that you didn't have before, and that will, over time, improve the quality of the insurance that you've got."
Yet for some of those who currently get health coverage through their employers, the law is already having an impact—and not "just" more outside benefits. Some employers are dropping spouses. Some are eliminating low-cost coverage for certain employees. And more can expect to have their benefits crimped as the law goes forward.
Package delivery service UPS, for example, recently announced that it plans to cut off health benefits for about 15,000 of its employees' spouses. In a memo to employees, the delivery company cited rising costs for chronic health conditions, which, "combined with the costs associated with the Affordable Care Act, have made it increasingly difficult to continue providing the same level of health care benefits to our employees at an affordable cost," according to The Wall Street Journal, which first noted the memo. The goal of the reduction, which targets working spouses who can get benefits through their own jobs, a company spokesperson told the Journal, was to keep premiums at current levels for employees even as the company's health costs have doubled in the last eight years.
UPS isn't the only company cutting back on spousal coverage. The University of Virginia also announced this week that it's eliminating some spousal benefits too. Obamacare will raise health care costs for the school by about $7.3 million next year, officials for the school said, according to The Hill. In order to mitigate the added expense, the university says it's getting rid of coverage for spouses who have the option of getting coverage elsewhere. These people may like their current coverage—but they won't get to keep it.
Obamacare's restrictions on super-cheap health plans are also changing the way some employers offer benefits. Universal Studios said in February that it would stop offering health benefits to part time workers, because the inexpensive plans it offered didn't pass muster under the new law. Farm employers in California who previously offered their workers low-cost coverage won't be able to continue doing so under Obamacare.
The law also sets up longer-term incentives for employers to be less generous with health coverage. Starting in 2017, the law puts in place a new tax on high-cost health plans. There's some evidence that employers are already rolling back benefits in response.
"Companies hoping to avoid the tax are beginning to scale back the more generous health benefits they have traditionally offered," The New York Times reported in May, which undermines the president's claim that existing coverage will be improved under the law. Now, there's legitimate question whether Congress will actually allow this provision to go into effect. But if it does, it will probably end up affecting a lot more people. "The reality is it is going to hit more and more people over time, at least as currently written in law," John Hopkins health economist Bradley Herring told the Times. A 2012 survey of employers found that 42 percent would be hit with the tax in 2018 if they made no changes to their benefits.
There are, of course, reasonable arguments in favor of the Cadillac tax, which is designed to stop employers from piling on generous tax-advantaged coverage that exacerbates the growth of health care spending. And Obamacare's defenders have argued that many super low-cost plans that will go away under the law weren't really worth having anyway. But that's not what the administration is saying. Instead, Obama, in a sort of continuation of his earlier promise that those who like their health plans will be able to keep them, is essentially telling people that existing employer-coverage arrangements won't change at all thanks to the law. But as thousands of employees at companies like UPS and UVA are all too aware, that's not quite true for everyone.