More Meth Madness: Pharmacy Now Demanding I.D. to buy Nail Polish Remover
America, I just….I just don't know what to say. This is why you don't deserve good things, like cold medicine or nail polish remover: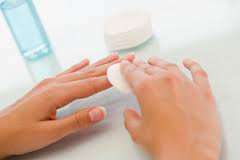 CVS pharmacy customers are being asked for identification when they buy nail polish remover, WPRI 12 News reports.

The policy, which has been rolled out across southern New England in the past few weeks, means customers must show ID and will be limited on the number of bottles of remover they can purchase, according to the station.

The drugstore chain says the rule is an attempt to curb the making of illegal methamphetamine, and issued this statement, according to the station:

"Because acetone is an ingredient used in the illegal manufacture of methamphetamine, we recently implemented a policy that a valid ID must be presented to purchase acetone-containing products such as nail polish remover…

In Boston, journalist Rachel Rohr recounted for WBUR

how her routine trip to a CVS for vitamins and nail polish remover was affected by the new policy.

According to her first-person account, Rohr says an error message appeared on the screen during her self-checkout. She received a slip of paper that read, "Products containing acetone/iodine cannot be purchased at the self-checkout. Please see associate for assistance."

"The saleslady overseeing self-checkout sprang into action and walked over to the register clucking, 'New state laws, driving us crazy.' Another sales associate chimed in, 'Meth,' and shook her head," Rohr writes.
Luckily it ain't a law…yet.
When contacted by Rohr, a CVS spokesman acknowledged it's a store policy. "We are in the process of implementing this chainwide, beginning a few weeks ago. We had already been requiring ID in states where you must be at least 18 to purchase acetone products," CVS' Michael DeAngelis wrote, according to Rohr.
LAist, which reports CVS is going to start doing this in California as well, gives some background that indicates that, with so many idiotic things in the market, it's a likely reaction to government bullshit:
The decision appears to be a proactive one on the part of CVS, The Huffington Post reports: In 2010, the chain agreed to pay $77.6 million to settle a federal lawsuit after it acknowledged that it had sold pseudoephedrine to criminals who used it to make meth.
I blogged the other day about proggies' impotent rage over the fact that in places in America, you don't need to pay off a licensed physician cartel member to buy cold medicine.