The Dubious Legality of the Hill's Obamacare Fix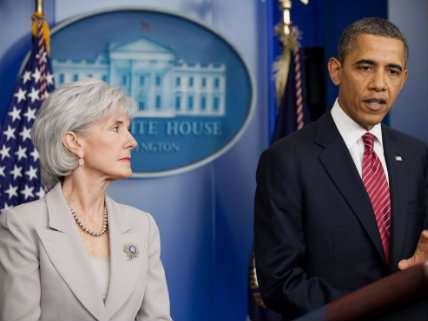 Last week we found out that members of Congress and their staffers would get an administrative fix to their most personal Obamacare headache: the law's requirement that legislators and Hill workers must get their health insurance through Obamacare's exchanges.
Part of the fear was that they would have to switch out of their current plans, provided through the Federal Employee Health Benefits Program (FEHBP), and into new plans offered through the exchanges. But the bigger worry was that they would have to buy insurance from the exchanges without the benefit of their employer's coverage contribution, which currently covers 75 percent of the cost of their premiums—a benefit equal to thousands of dollars a year for many staffers.
This week, the Office of Personnel Management (OPM), which administers federal employee health benefits, is expected to issue a rule stating that legislators and their staffers will still have to buy through the exchanges—but will be allowed to use the employer contribution toward plans purchased on the exchanges.
It's not clear how this will work: Will staffers simply get the cash value of the employer contribution? Or will OPM put the money toward the exchange premium?
But the bigger question is whether it's legal at all. As Robert Moffit, Edmund Hailsmaier, and Joseph Morris note in a report released last week, OPM is only allowed to authorize payments to plans with which it has contracted through a specified negotiation process. It has no stated authority to pay the government's share toward other plans—like, for example, plans bought through Obamacare's multiple exchanges. In addition, the authors note that the standards and requirements for exchange plans are different than the standards for OPM-contracted plans. The exchange plans are not technically qualified to be offered through the FEHBP. You can't mix and match the two—and you can't fund exchange plans with money meant to pay for FEHBP coverage.
Nor is it clear that OPM can easily allow a widespread employee cashout of benefits. That's the sort of thing that usually requires legislation.
Adding another wrinkle, a staffer for Senate Majority Leader has indicated that each individual Hill office will be allowed to decide whether its staff will be allowed to use the federal contribution to help pay for exchange coverage. So is each office going to be making potentially unauthorized policy decisions on its own? Can OPM confer authority on individual offices to make benefits changes that OPM is not allowed to make? If this goes awry, expect Congress to continue to look for ways to avoid Obamacare's more personal complications. This fix may end up requiring another fix.