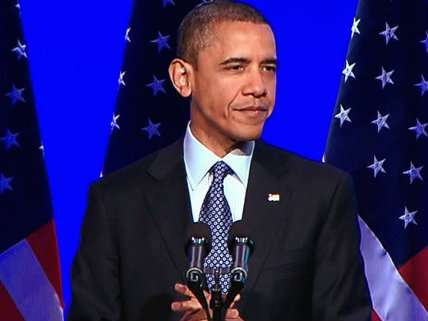 President Obama's gave a big speech on the economy this afternoon, one that was hyped as a preview of the White House's pivot to focusing on jobs and the economy. If you didn't watch, here's the short version: All the stuff he favored before? He's still in favor of it. And he's irritated that Republicans are blocking him from doing all the things he still wants to do.
I say "stuff" because that's roughly as specific as Obama got. This was a policy-light speech, heavy on broad ideas, but incredibly light on details or plans, particularly new ones. (Indeed, in that sense, it was practically Romneyesque.) Instead, it was a preview of the economic themes Obama has in mind for the remainder of his second term: inequality, education, economic stagnation—and, most of all, congressional gridlock and inaction.
One way to interpret the speech is as an announcement that the administration is making congressional opposition enemy number one. "Over the past six months," Obama said, "gridlock has gotten worse." And he vowed to use every resource at his disposal to fight back.
Yet Obama's insistence that he would do everything he could to break congressional gridlock only underscored how little there is he can do in response. "I will not allow gridlock, inaction or willful indifference to get in our way," he said. "Whatever executive authority I have to help the middle class, I'll use it. Where I can't act on my own, I'll pick up the phone and call CEOs, and philanthropists, and college presidents – anybody who can help – and enlist them in our efforts." That's right: The president is willing to pick up the phone and call philanthropists and college presidents, if that's what it takes.
There isn't, in other words, much he can do—or at least not much he can do that he also wants to do. And in Obama's view, that seems to be the real problem. The speech was billed as a big reveal of the administration's economic agenda—the New York Times preview article this morning was headlined "Obama Plans to Unveil his Agenda for Economy"—but in many ways it was just an extended complaint about presidential powerlessness in the face of political opposition. What it actually revealed was the president doesn't have much of an agenda, except old ideas that have already failed to go anywhere. So in place of new policy ideas, he gave a speech blaming Republicans. That's politics, and it will probably please many of the president's supporters. But it's not likely to weaken congressional opposition. If anything, this speech was a recipe for more gridlock, not less.