Jay-Z, Kanye West Join Stevie Wonder's Boycott of Florida over Stand Your Ground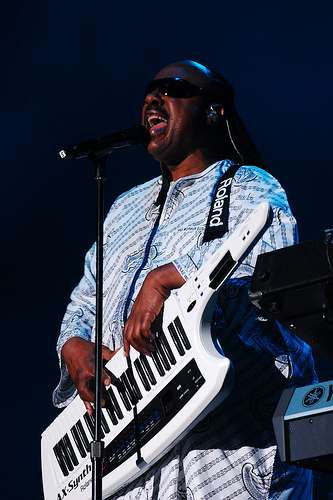 Following George Zimmerman's acquittal, soul singer Stevie Wonder announced his intention to boycott the whole state of Florida. He cited the state's "Stand Your Ground" law for his self-imposed exile, even though, as Jacob Sullum has pointed out several times, Stand Your Ground played no role the case. Since Wonder's announcement last week, other big name celebrities have rallied behind the singer.
Standing in solidarity against self-defense laws is rapper Jay-Z, who once faced charges for plunging a knife into a music producer. The artist, whose song "Threat" features lyrics such as "I'll kill ya, I'll chop ya up/ Put ya inside the mattress," made a prominent appearance at a "Justice for Trayvon" rally in New York City. Also agreeing to boycott Florida is Kanye West, who is facing felony charges for attacking a paparazzo.
Wonder proclaimed his musical embargo of the sunshine state on stage in Quebec City, Canada last week. Because of his "love for everyone," the musician took a break from a concert to express strong sentiments against any place which allows citizens to stand their ground in a dangerous situations. Wonder encouraged fans to join him in shunning Florida. Captured on video by a fan, Wonder declared to the crowd:
I decided today that until the 'stand your ground' law is abolished in Florida, I will never perform there again. As a matter of fact, wherever I find that law exists, I will not perform in that state or in that part of the world.

[…] For those that we have lost in the battle for justice, wherever that fits in any part of the world — we can't bring them back… [What] we can do is we can let our voices be heard. And we can vote in our various countries throughout the world for change and equality for everybody. That's what I know we can do.
If Wonder stands his ground against self-defense laws, the musician's decision will leave fans throughout the United States cut off from his concerts. As the National Conference of State Legislatures points out, "laws in at least 22 states allow that there is no duty to retreat an attacker in any place in which one is lawfully present."
Journalist April D. Ryan lists 23 music celebrities who have joined Wonder thus far:
Eddie Levert
Rod Stewart
Madonna
Usher
Kanye West
Jay Z
Pattie Labelle
Mary J
Trey Songz
Rolling Stones
Justin Timberlake
R. Kelly
Rihanna
Alicia Keys
Joe
Will I AM
Keyshia Cole
Young Jeezy
Erykah Badu
Wale
Frankie Beverly
Parliament
Mary Mary
Update: A local station reports that a concert with Jay-Z and Justin Timberlake is still set to hit Miami. A Mother Jones article explains that some of the celebrities listed, though they expressed solidarity with Stevie Wonder's boycott, "that doesn't mean they're necessarily blacklisting Florida" themselves.