Bloomberg Wants to Push New Yorkers Up Stairs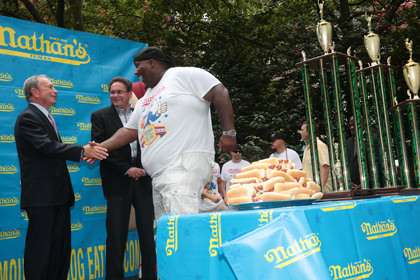 New York Mayor Michael Bloomberg will hopefully transfer power peacefully at the end of this year, but his war on obesity isn't over yet.
On Wednesday, Bloomberg issued an executive order requiring city agencies to implement "active design strategies" to help builders and planners get New Yorkers to take the stairs, and "combat obesity, which is killing more than 5,000 New Yorkers each year," according to a press release.
"New York City has been a leader when it comes to promoting healthier eating and now we're leading when it comes to encouraging physical activity," Mayor Bloomberg said. "Physical activity and healthy eating are the two most important factors in reducing obesity and these steps are part of our ongoing commitment to fighting this epidemic."
And Bloomberg wants to be the leader of the movement. From the New York Daily News:
On this issue, the billionaire mayor said he's leading by example. He rarely uses the elevator in his townhouse on the upper East Side, he said.

"I have five floors," Bloomberg said. "I take the stairs."
And Bloomberg says even when he's not using the stairs, he doesn't stand still on escalators, according to Politicker. City Hall promotes this latest nanny initiative as encouragement rather than force, but that is misleading. From The Wall Street Journal:
Legislation being submitted to Council would require building owners to provide visible access to stairs and post signs encouraging their use near elevators — the city's health department says it has already had success experimenting with signs that implore people to "burn calories, not electricity."
With Mayor Bloomberg's lifestyle preferences imposed on more New Yorkers, Deputy Mayor Lisa Gibbs says the city would be "saving the equivalent of 500,000 pounds of weight among adult New Yorkers annually."
Read more Reason coverage of Michael Bloomberg's nanny state mayorship here.