DC City Council Shake Down of Walmart Epic Fails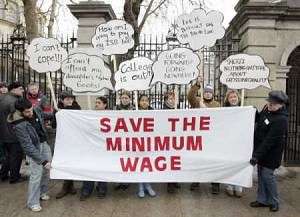 Yesterday, I marvelled at the chutzpah of the Washington, DC City Council's effort to shake down retailers like Walmart by boosting the city's minimum wage by nearly 50 percent just for them. As I opined:
The economic ignorance of the city mothers and fathers of Washington, DC never ceases to flabbergast me. Years ago, the city's solons decided that not enough people were choosing to work at house-cleaning and other domestic chores, so they sought to solve this "shortage" by voting to boost the minimum wage for such work. Surely, increasing the price of an activity will increase the demand for it.

In another boneheaded move, the city council voted earlier this year for legislation, the Large Retailer Accountabliity Act, that would hike the minimum wage for workers at "big box" stores to $12.50 per hour. This is a big increase over the city's $8.25 minimum wage. Evidently the city council believes that this is the way to entice retailers like Walmart, Target, and Wegmans to open businesses in the city.
Now Walmart has told the city council members that if they persist with this ill-advised scheme, the company will simply take its business elsewhere. In an op/ed in the Washington Post today, regional manager Alex Barron writes:
In November 2010, Wal-Mart announced a plan to bring more jobs, shopping options and fresh food choices to Washington residents. Just 12 months later, we increased our investment — from four stores to six and from 1,200 jobs to 1,800 — in an effort to expand access and opportunity to more underserved communities in the city.
Sounds really good. However, City council member Vincent Orange was quoted yesterday in the Post as saying, "We don't have to beg people to come to the District anymore." Well maybe they do after all. Barron's op/ed continues:
Like any business, we have a responsibility to our customers, employees and shareholders to reevaluate our options when it looks as if local rules may significantly change. The LRAA would clearly inject unforeseen costs into the equation that would create an uneven playing field and challenge the fiscal health of our planned D.C. stores.

As a result, Wal-Mart will not pursue stores at Skyland, Capitol Gateway or New York Avenue if the LRAA is passed. What's more, passage would also jeopardize the three stores already under construction, as we would thoroughly review the financial and legal implications of the bill on those projects.

This was a difficult decision and one we arrived at after considerable contemplation.
What does Orange say now? From today's Post:
Vincent B. Orange (D-At Large), a backer of the bill, said the announcement revealed its "true character."

"For them to now stick guns to council members' heads is unfortunate and regrettable," he said.
Who is sticking what gun to whose head? In this case, it is Orange who has revealed his true character as an economically ignorant demagogue. Let's hope that DC's voters will hold Orange and the other seven council members accountable for the loss of jobs, convenience, and affordable shopping.
See below Reason TV's "The War on Walmart: Who's Afraid of Cheap Groceries?"