The Last Days of Ernest Hemingway
He thought the FBI was spying on him—and he was right.
Ernest Hemingway's friend A.E. Hotchner has a moving essay in The New York Times about the closing months of the novelist's life in 1960 and 1961. At that point Hemingway was anxious, paranoid, convinced the Federal Bureau of Investigation was following him and that his home and car were bugged. He tried several times to kill himself and was put in a mental ward, where he received 11 electroshock "treatments." Even in the hospital, he insisted that the FBI was spying on him. Finally, 50 years ago yesterday, he ended his life.
Decades later, in a twist you may have seen coming,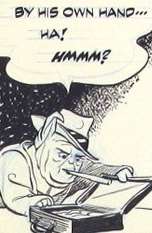 the F.B.I. released its Hemingway file. It revealed that beginning in the 1940s J. Edgar Hoover had placed Ernest under surveillance because he was suspicious of Ernest's activities in Cuba. Over the following years, agents filed reports on him and tapped his phones. The surveillance continued all through his confinement at St. Mary's Hospital. It is likely that the phone outside his room was tapped after all.

In the years since, I have tried to reconcile Ernest's fear of the F.B.I., which I regretfully misjudged, with the reality of the F.B.I. file. I now believe he truly sensed the surveillance, and that it substantially contributed to his anguish and his suicide.
[Via Tom Jackson.]