America's Richest Football Team Needs Your Help
Will you make a difference today?
Pardon me, but could you help out a few fellow Americans who are down on their luck?
In just four weeks, the City of Richmond will be taking in these poor unfortunates – men who have had to scrape by on only a few million dollars a year.
Sometimes even less.
Thanks to the incredible generosity of the Bon Secours Health System, the Commonwealth of Virginia, the City of Richmond, and countless taxpayers, they will have a place to stay: the new, $10 million Redskins Training Camp.
The city moved Heaven and Earth – not to mention a bunch of trees – to make sure these destitute souls could practice their passes and sacks without having to worry about money.
BUT THERE IS STILL SO MUCH MORE TO DO.
Officials expect thousands of concerned fans to descend on the training camp to watch over the players. Some of these compassionate citizens will be coming from far away. They, too, will need your help.
That is why the City of Richmond has launched its Training Camp Ambassadors Program. Part of the larger Neighbor to Neighbor initiative – designed to "inspire each of us to develop a closer relationship with our neighbor" – the Ambassadors program will give area citizens "the opportunity to assist the Washington Redskins in creating a positive fan experience."
The need is truly great. To help handle the crowds, the city is asking for as many as 100 volunteers to serve as ambassadors.
AND YOU COULD BE ONE OF THEM.
Of course, service will require commitment. According to city documents, "Ambassadors will report to Washington Redskins leadership at the beginning of every shift for specific duties of the day." Ambassadors "should be able to commit to multiple shifts. . . . Ambassadors should arrive on-time [sic] for their scheduled work period and be able to stand for long periods while working outside in typical summer weather."
And because the Redskins have so little, Ambassadors will be volunteers. You will not be paid for helping them.
This is your chance to be a hero to those in need.
For just pennies a day, you can drive to the Redskins Training Camp to assist the fans and players – players such as . . .
Robert Griffin III. Born in the Third-World city of Okinawa, Robert was forced to move time and again by parents who eked out a living as sergeants in the U.S. Army. For several years now, he has managed to survive by relying on his physical skills as a seasonal worker.
Jeremy Trueblood. At 6'8″ and 320 pounds, Jeremy – who lost his job last year – is sometimes so hungry he can barely stand up. On top of that, the right tackle has only recently regained the use of his right arm. "I was so used to it hurting," he says. Thanks to surgery, he is feeling much better.
Chris Thompson. This courageous little man – he is only 5'7″ – was in "the worst pain in my life" after a back injury not long ago. Now that doctors have cleared his return to the field, he says, "my biggest goal is to just show myself that I can play again."
WON'T YOU PLEASE HELP ROBERT, JEREMY, CHRIS – AND THE MANY OTHERS LIKE THEM?
Without volunteer ambassadors, the Washington Redskins might have to pay someone to do their bidding. And with less than $400 million in revenue last year, they can scarcely afford to do that.
But it won't be easy!
"A Richmond Training Camp Ambassador is not someone who will use the position to watch practice and gain access to the property," the city says. "An Ambassador is not someone who will put their own personal enjoyment of Training Camp above fans and guests attending practice. Ambassadors may be asked to work positions with limited or no view of the playing field and the Redskins will expect these Ambassadors to work the positions assigned to them regardless of the specific duties."
AND YET. . .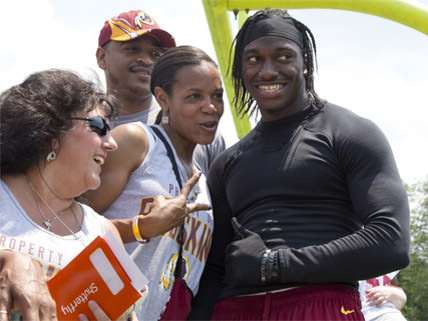 When you serve as an Ambassador, you know you will be making a difference in the lives of others. You will be creating positive change and a brighter future for those who have so little.
And if you work three shifts, you will receive an official Washington Redskins pin. For five shifts, you will get two pins. Above all else, you will be rewarded with the feeling of contributing to a positive, fan-friendly atmosphere. City officials say so.
I ask you – no, I beg you: Look at the photograph nearby. Stare into the haunted eyes of RGIII. In the face of such pain, such suffering, such torment – how could you possibly say no?