Selling Obamacare: Will It Ever Work?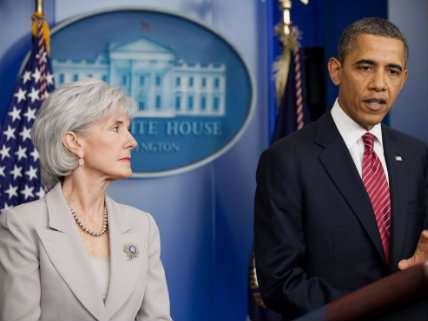 How many times must Obamacare be sold? In April, the Obama administration confirmed that it would spend another $8 million marketing the health law, following up on a $3 million marketing campaign from last fall. And last week, Time reported on new efforts to market the law to the young and healthy adults that are crucial to the law's success. A TV ad has already been released, and Time's report says that "at the White House, health care implementation has become an obsession."
The big problem? The law is unpopular, still. And "that unpopularity threatens one of the law's most ambitious goals"—the stability and success of the health insurance exchanges that are the centerpiece of the law. The administration's response to that problem looks rather like a government-run version of what you might expect from a beer company introducing a new product: social media campaigns, commercials, and partnership possibilities with professional sports.
Will it work? One never knows, but years of efforts by the administration and its allies to market the law haven't worked before.
Before the law was passed, Democratic supporters insisted that opposition would fade quickly after it became law. "The minute the president signs the health care reform bill, approval will go up," Bill Clinton said in 2009. But it didn't, not then, and not later. Indeed, with 43 percent of the public saying they have unfavorable views of the law, and just 35 percent saying they favor it, public opinion is less supportive of the law than when it passed in 2010.
The health law's backers have grumbled since the beginning that it only polled poorly as a result of misinformation from critics—and that the public would really like the law if they actually understood its benefits. "There still is a great deal of confusion about what is in [the reform law] and what isn't," Health and Human Services Secretary Kathleen Sebelius told ABC News just months after the law passed in March, 2010. "We have a lot of reeducation to do."
And so they announced plans to begin reeducation. In June 2010, a coalition of administration allies said they would spend $25 million to promote the health care law, with a special focus on fighting mischaracterizations that might harm the electoral prospects of Democratic candidates, according to The New York Times. There would be a "nationwide, milltimillion ad offensive – organized in consultation with the White House and funded by sympathetic groups and wealthy individual donors," The L.A. Times reported in August of that year.
But a few months later, a liberal activist coalition released a sobering report concluding that policy arguments made for the law were failing to take hold. A team of political scientists later found that support for the health law probably cost Democrats 25 seats in the House that year—and with it, majority control.
In 2011, documents surfaced showing that the Obama administration had spent some $1.4 million coordinating with PR firm Ogilvy to run paid media and search-based online advertisements intended to promote the health care overhaul. According to Kaiser's health tracking poll, unfavorable opinions about the law rose above 50 percent for the first and only time that year.
A little less than a year later, in May 2012, HHS confirmed that it had signed a $20 million contract with a separate PR firm to market the health law's preventive benefits. The $8 million and $3 million marketing contracts followed. California's health exchange director, meanwhile, recently said that the state will spend a whopping $250 million—drawn from federal grants—to market the law over the next two years.
It's all leading into this year's big sales pitch, which the administration is conducting with the help of two non-profits with White House ties so strong they might as well be shadow administration agencies. One is Enroll America, a new group focused on enrolling individuals in the health law led by the former deputy director of the White House Office of Public Engagement. (The administration is supportive enough of this group that HHS Secretary Sebelius has made fundraising calls on its behalf.) The other is Organizing for Action, the successor to President Obama's former campaign organization.
Three years after the law passed, the administration and its allies are still struggling to sell it to the public, despite multiple campaigns and millions of dollars spent. Will these new efforts be any different? With the law's major coverage expansion provisions set to kick in next year, it's possible. But that also means the stakes are higher now. It's not just about poll numbers any more. "The exchanges need roughly 2.7 million healthy 18-to-35-year-olds to sign up to be solvent," according to Time. "If too few choose to enroll because they don't know about the law, don't like it, or feel they don't need insurance, the exchanges will fail. And so will the law." The administration knows this, and will no doubt work especially hard to sell Obamacare this year. But the question remains: Is anyone buying?