Poll: 44 Percent Turned to Family, Friends For Help After Hurricane Sandy, Only 16 Percent to the Feds, Even Less to State Governments, Didn't Find Those Helpful
19 percent of those reaching out to the federal government found it helpful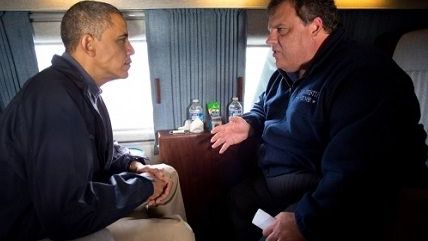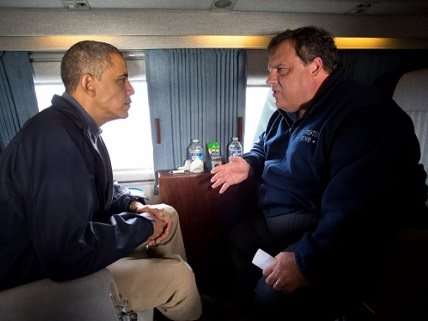 Chris Christie may have enjoyed a boost in popularity in New Jersey after Hurricane Sandy, and some even blamed his embrace of Obama for Mitt Romney's loss last November. For his part, MSNBC's Chris Matthews couldn't hold in his excitement about how Hurricane Sandy helped Obama in the final days of the presidential campaign.
But now a new poll shows just how overblown the idea that Americans turn to a reliable federal government after a natural disaster is. An AP/NORC poll found:
- Forty-one percent in the affected counties said they sought help from friends, family or neighbors, with about 6 in 10 of those who got the help saying it was deeply helpful.

- Sixteen percent said they contacted the federal government, and 7 percent said they contacted their state government, in the wake of the storm. Nineteen percent who sought help from the federal government said it was helpful; twice as many (38 percent) said the feds were no help at all.

- Along with friends, family and neighbors, first responders were also viewed as helpful by most in the affected areas. Sixty percent of those surveyed who turned to first responders for help said they provided quite a bit or a great deal of assistance.

- In the event a major disaster were to happen in their neighborhood today, 7 in 10 Americans say they would be able to rely a great deal or quite a bit on their local police, fire department, ambulance and other first responders for help.

- Thirty-one percent of those who asked utility companies for help reported they received at least quite a bit of help during or after the storm. Fewer called state and federal governments helpful, with 26 percent and 19 percent, respectively, reporting receiving a great deal or quite a bit of help from those sources.
President Obama's spent a lot of time trying to link federal spending to first responders like firefighters and police officers when those are all functions traditionally performed by local governments or even volunteer groups.
The federal government, nevertheless, has been seeking to subsidize and control local government through grants more than willingly accepted by local and state politicians, and has used natural disasters like hurricanes for a long time to exaggerate its indispensability and write blank checks in times of crisis.