Federal Watchdog Report Points to Trouble For Obamacare's Health Exchanges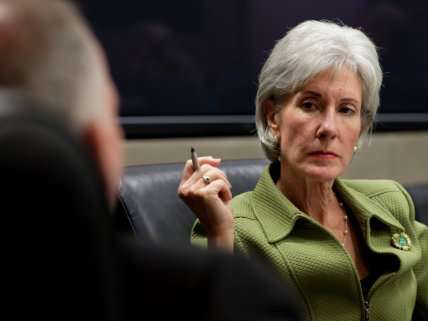 Will Obamacare's federally run health insurance exchanges be ready on time? In a report released today, the Government Accountability Office has weighed in on the question, and its answer is…maybe? But the federal watchdog can't say for sure—and federal officials will face additional challenges between now and October, when the exchanges are scheduled to open for enrollment.
Under Obamacare, each state will have its own health insurance exchange, and 34 of those exchanges will be run by the federal government. (States will assist with some of the work in 14 states.) Those exchanges are supposed to start accepting enrollees on October 1 of this year, but for the last few months reports have suggested that federal officials may be having a difficult time with the implementation effort, and in particular with the database technology that is supposed to make up the heart of the exchanges. Health and Human Services representatives have continued to insist that the exchanges will be up and ready on time, and they still do today. But the GAO's report isn't exactly confidence inspiring.
"Much progress has been made," the report says, "but much remains to be accomplished within a relatively short amount of time." Medicare officials have a timeline in place that they say will allow them to open the exchanges on schedule. But that's only if they can stick to the timeline. The agency has missed multiple deadlines so far, the GAO report says, and that could be a problem: "While the missed interim deadlines may not affect implementation, additional missed deadlines closer to the start of enrollment could do so."
Meanwhile, the federal government is still relying on states to do some of the work, but the GAO report found that "many state activities remained to be completed and some were behind schedule." Even with the contingency plans that federal health officials say they are developing, GAO concludes that it's tough to say whether the federal exchanges will be ready on time. "Whether CMS's contingency planning will assure the timely and smooth implementation of the exchanges by October 2013 cannot yet be determined," the report says.
There's plenty that's not finished on the federal side too. Federal health officials have "many key activities remaining to be completed across the core exchange functions—eligibility and enrollment, including development and implementation of the data hub; program management; and consumer assistance." That's a lot to not have finished with just a few months to go, especially since GAO reports that federal officials are already behind schedule on some of those activities, like consumer assistance planning.
Some of the key technological features of the exchanges haven't been tested yet: Functionality intended to offer real-time verification of income, citizenship, and eligibility for insurance subsidies hasn't happened so far, and the federal government told GAO it still needs to complete additional steps in order to do so. The plan is to have those steps completed by July. But, as previously noted, sticking to deadlines has proven difficult in the past.
In other words, there's still a lot of work to be done, and the conclusion one ought to draw from the GAO report is that it's not entirely clear that federal officials can complete it all on time.
Nor is the GAO the only organization reporting that government officials setting up exchanges have a rocky road ahead of them. The Robert Wood Johnson Foundation published a report this month looking at exchange implementation efforts in three states: Alabama, Virginia, and Michigan. And it too found a variety of struggles with the process.
One of the concerns the RWJF report raises is that state and federal officials are having trouble communicating and coordinating effectively. "Discussions with state staff in all three states made it clear that the actual structure of operations and functioning of the communications and interactions between states and [federal health officials] are evolving but are not yet clear on numerous levels, leading to significant frustration at the state level," the report says.
The RWJF report also notes struggles to make the technology work as intended, saying that "the challenge that has weighed most heavily on all states since the earliest discussions over exchange development has been IT system construction and integration with existing programs." Michigan and Virginia intend to work with the federal government to operate their exchanges, but staff in both states "continue to be concerned with the details of how information will be exchanged between the state departments of insurance and the federal exchanges." Even in Alabama, where the federal government has essentially taken charge of the whole exchange operation, state officials say they expect to have some interaction—but according to the report, "they do not seem to have any sense of what that interaction will look like." Officials in Alabama additionally expressed frustration at having been assigned six different federal case officers since exchange planning began, meaning they have no consistent contact or information.
Now, even with all this, my guess is still that most and probably all of the exchanges will be open in some form on October 1, perhaps with somewhat limited technical capabilities, and almost certainly with a variety of noticeable glitches and headaches for both users and government officials. Still, these reports do not bode well for the successful implementation of the law's key vehicle for the expansion of health coverage, and they suggest the scale of the administrative complexity involved in enacting the law's coverage schemes.