57% of Americans Think NSA Leak Will Have "No Impact" on National Security
Americans may be incapable of separating their feelings about major policy issues from their party loyalties and they may be supportive of surveillance programs they don't fully understand, but at least they are united in believing that leaked documents about the NSA's collection of domestic data won't harm national security. According to a new CBS poll, 57 percent of respondents said that the leaking of the NSA's data-diving program would have "no impact" on the U.S.'s "ability to prevent future terrorist attacks."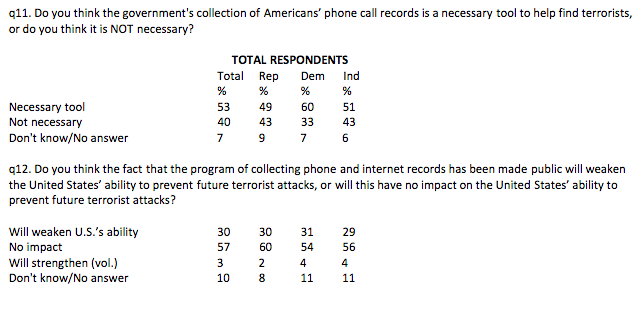 The poll was conducted June 10-11, which says to me voters aren't buying claims that Snowden's leak jeopardized national security. Maybe because they have not been blown up yet? Also, Sen. Jon Tester (D-MT) doesn't see how the leak "compromises the security of this country whatsoever." So yeah, this claim is hopefully dead forever.
Addendum: Gallup asked a question specifically about the leaker (as opposed to the leak), and found some politicization in the answers:
Americans break roughly even when asked if it was right (44%) or wrong (42%) for Snowden to share that information with the press. A plurality of Republicans said he did the right thing in leaking the news of the surveillance programs, while a plurality of Democrats said he did the wrong thing.
On Monday we posted the results of a Pew poll that found Democrats had done a complete 180 on the NSA's surveillance powers: In 2006, an overwhelming majority of Dems disapproved of the NSA's surveillance program; today, an overwhelming majority support them. The shift for Republicans was similar, but less severe. Pew found that 75 percent of Republicans approved of NSA data collection in 2006, and that a smaller majority of 52 percent support them today.