Appeals Court Seems Skeptical of Bloomberg's Big Beverage Ban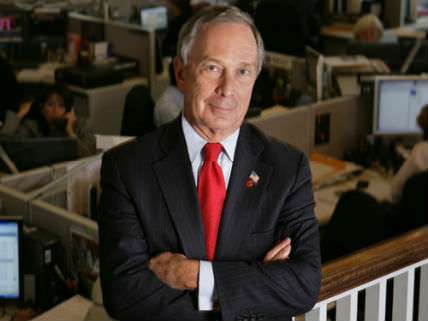 Today a lawyer seeking reinstatement of New York Mayor Michael Bloomberg's big beverage ban faced a barrage of skeptical questions from a state appeals court panel. The widely ridiculed rule, which never took effect, would have imposed a 16-ounce limit on servings of certain sugar-sweetened drinks sold by restaurants, food carts, and concession stands. Three months ago a state judge overturned that restriction, concluding that it violated a state law barring "arbitrary and capricious" regulations and exceeded the legal authority of the Bloomberg-appointed New York Board of Health. Newsday reports that the appeals court judges hit both of those points today:
The judges repeatedly challenged city attorney Fay Ng to defend the rule's scientific and legal underpinnings.

Justice David Friedman said the city appeared to be asking for unprecedented authority to regulate all sorts of portion sizes, including "the number of doughnuts a person could eat, the number of scoops of ice cream" and number of servings of fried chicken.

Several times, Justice Dianne Renwick questioned whether the 16-ounce size limit was scientifically arbitrary, given that it is based on liquid volume rather than a measure of how much sugar is actually in a beverage. The limit, she noted, meant that some drinks with high amounts of sugar would be allowed, while others with less sweetener would be banned.
The New York Post has more:
The panel was befuddled by the distinctions.

"Why the limits on some [drinks] and not others," asked Justice Diane Renwick….
"How about pomegranate juice and blueberry juice?" Justice Rosalyn Richter asked.

"What about sugar-infused energy drinks?" she wondered.
Baylen Linnekin declared the soft drink regulations good as dead in March. I analyzed Bloomberg's defeat in the New York Daily News.
Video bonus: Bloomberg's soda serving ceiling was the springboard for "An Epidemic of Meddling," a talk I gave at the University of Wisconsin School of Medicine and Public Health in April. You can watch that here, and here is a counterpoint from Peter Ubel, defending a government role in reducing obesity.