Farm Subsidies: The Temporary Program That Just. Won't. Die.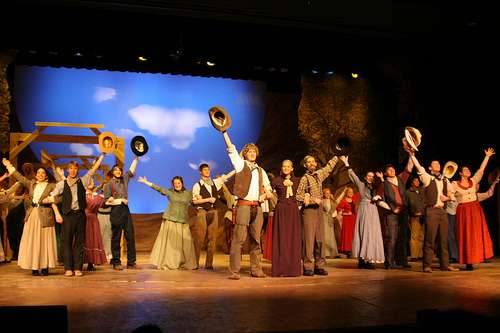 If you want an idea of how hard it is to kill a government program, take a look at farm subsidies. In theory, the $5 billion in direct payments made to farmers each year are supposed to ease the burden on small farmers. In practice, the program ends up paying a chunk of that money to wealthy urbanites and others who are not exactly hard working small farmers.
This weekend The Washington Post told the story of Lisa Sippel, who lives in a grand apartment building on Central Park West in Manhattan—and still got more than $9,000 in farm subsidies last year. The program doesn't just pay rich New Yorkers. It also pays congressional representatives, including folks like Rep. Stephen Fincher (R-Tenn.), who got more than 70 grand last year. (To his credit, he's called for the program to be shut down.)
This is a program that doesn't meet basic tests of public worthiness: The Government Accountability Office last year concluded that the program failed to align with the good-government principles of relevance, targeting, affordability, effectiveness, or oversight. The GAO report frames its conclusion politely: Continuing to make payments that don't "align with principles significant to integrity, effectiveness, and efficiency in farm bill programs raises questions about the purpose and need for direct payments." The question I think it raises the most is: Why the hell are we still spending this money?
I say "still," because here's the story's kicker: This was a program that supposed to be temporary. Indeed, it was a program that was supposed to save the government money by ending farm subsidies a decade ago. Instead, it's cost taxpayers some $46 billion more than it was supposed to.
And, at least for now, it's still going. The Post tells the tale:
It has become a case study in how a temporary giveaway turns permanent, but it began in 1996 as an idea to save the government money.

Warner Bros.

A penny-pinching Republican Congress wanted to eliminate the complex system of subsidy payments that had begun in the New Deal, but it didn't want to make farmers quit cold turkey.

So Congress devised a kind of nicotine patch for farm subsidies. The new program would pay out smaller and smaller amounts over seven years. Then it would end.

To make the changes more palatable to farmers, Congress loosened the requirements for getting the payments. They would be calculated based on a farmer's past harvests. In the future, farmers could grow the same crops. Or different ones.

Or no crops at all. The money would still come.

"These are not welfare payments. These are declining market transition payments," said then-Rep. Pat Roberts (R-Kan.), the architect of the plan. When those payments finally ended, Roberts promised, Congress would have finally gotten "the dead hand of government out of the business of farming."

Roberts' seven-year plan held up. For about two years.

Then, in 1998, farm income fell. A drought crippled harvests. The farm lobby howled for help. Congress complied by adding $2.9 billion in extra payments. The declining transition payments would no longer decline before their end date.

In 2002, Congress got rid of the end date, too.
The obvious lesson here is that it's really hard to truly kill any government program—even the kind that's not effective, and even the kind that's designed to die. And because of that, we ought to be extremely cautious before starting up any new programs, especially the kind that, like farm subsidies, create entrenched constituencies through payouts and other benefits. Even supposedly temporary programs can end up staying with us for a very long time.