Keene, N.H., Meter Readers Are Terrified of Populace, Demand 'Safety Zone'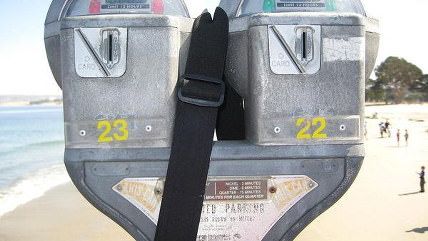 (Marlith / Foter.com / CC BY-SA)
The Libertarian Free Keene group in New Hampshire has been "tormenting" the city (and the city's bottom line) by bouncing around town with pockets full of loose change, feeding meters in order to keep people from getting parking tickets and sometimes videotaping officers. This is so frightening to the city that it's turning to the courts to try to get a restraining order to keep these people away. Via the New Hampshire Union Leader:
Members of the group place cards under windshield wipers that read, "Your meter expired; however, we saved you from the king's tariffs, Robin Hood and his Merry Men. Please consider paying it forward," and includes an address where donations can be sent.

The group says the suit was filed because the city is losing revenue from parking tickets. The city says the activists are harassing its employees.

In the case filed May 2, the city asks the court to prohibit residents Kate Ager, Ian Bernard aka Ian Freeman, James Cleaveland, Graham Colson, Garrett Ean and Peter Eyre from coming within 50 feet of the city's three parking enforcement officers "during the performance of their employment duties for the city."

According to the suit, the residents "regularly, repeatedly and intentionally taunted, interfered with, harassed, and intimidated" the officers starting last December, "surrounding, touching or nearly touching, and otherwise taunting and harassing" the officers.
The city (whose population is less than 25,000) worries the officers will be so demoralized about not being able to fine people that they'll quit and they might have difficulty filling the positions. The horrors.
Follow this story and more at Reason 24/7.
Spice up your blog or Website with Reason 24/7 news and Reason articles. You can get the widgets here. If you have a story that would be of interest to Reason's readers please let us know by emailing the 24/7 crew at 24_7@reason.com, or tweet us stories at @reason247.