Why Gun Owners Don't Trust Obama—Even When They Agree With Him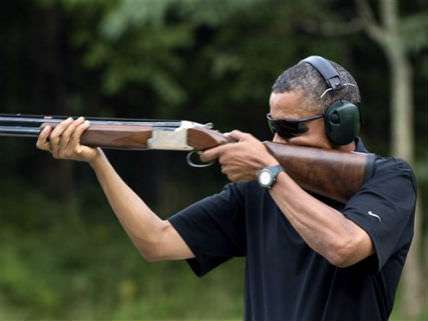 The latest New York Times/CBS News poll finds that about nine out of 10 Americans continue to favor "a federal law requiring background checks on all potential gun buyers." But as President Obama has suggested, a lot of these people seem to think we already have such a law, because only 54 percent of respondents said they supported stricter gun control. And despite the fact that Obama has been pushing a requirement that 88 percent of Americans say they support, only 41 percent approve of the way he has been handling gun policy, while 52 percent disapprove. That's twice as high as the percentage who said they had an unfavorable view of the National Rifle Association, which Obama has sought to demonize at every opportunity. Furthermore, even though Republicans in Congress opposed expanded background checks, more Americans trust them to "make the right decisions about gun laws" than trust the president (44 percent vs. 41 percent). A Republican respondent interviewed by the Times after the survey suggested a possible explanation for this apparent inconsistency. "I was really ticked off that the law didn't pass," he said, "but I thought it was wrong of President Obama to get in front of the public and use people who had been damaged by gun violence as props."
Could it be that Obama's eagerness to claim the moral high ground by clambering onto the bloody corpses of children offended some people who might otherwise be inclined to support his policy proposals? I'd like to think so. Revulsion at the president's portrayal of his opponents as accomplices to mass murder may help account for the Pew Research Center's finding that just 47 percent of Americans reacted negatively to the Senate's rejection of a bill that nine out of 10 notionally supported, while 39 percent said they were "happy" or "relieved"—reactions that were especially common among people who said they had been paying close attention to the issue.
Obama's difficulty in winning the trust of gun control skeptics, even when they agree with him on the issue at hand, goes beyond his crass and insulting rhetoric. Although he frequently proclaims his support for Second Amendment rights, he has a very narrow concept of what they entail. He tellingly defended the constitutionality of the severe gun restrictions overturned by the Supreme Court in District of Columbia v. Heller and McDonald v. Chicago, which barred law-abiding citizens from keeping handguns for self-protection even in their own homes. Obama argues that state and municipal governments have wide latitude under the Second Amendment to adopt gun controls that make sense in light of local conditions, even when those laws virtually eliminate the right to keep and bear arms. The D.C. law overturned in Heller, for instance, not only banned handguns but also effectively forbade the use of rifles or shotguns for self-defense. As Obama put it after Heller was decided in 2010, "What works in Chicago may not work in Cheyenne." And vice versa, of course. In light of that position, Obama's anecdote about how his wife came to empathize with rural gun owners is not as reassuring as it may seem on its face:
And so one of the questions we talked about was, how do you build trust? How do you rebuild some trust? And I told the story about two conversations I had. The first conversation was when Michelle came back from doing some campaigning out in rural Iowa. And we were sitting at dinner, and she had been to like a big county, a lot of driving out there, a lot of farmland. And she said, if I was living out in a farm in Iowa, I'd probably want a gun, too. If somebody just drives up into your driveway and you're not home—you don't know who these people are and you don't know how long it's going to take for the sheriffs to respond. I can see why you'd want some guns for protection. That's one conversation.

I had another conversation just a couple of months ago with a mom from Chicago—actually, Evanston, Illinois—whose son had been killed in a random shooting. And she said, you know, I hate it when people tell me that my son was shot because he was in the wrong place at the wrong time. He was in the right place. He was on his way to school. He wasn't in the wrong place. He was exactly where he was supposed to be.

Now, both those things are true. And sometimes we're so divided between rural and urban, and folks whose hunting is part of their lives and folks whose only experience with guns is street crime. And the two sides just talk past one another. And more than anything, what I want to just emphasize is there are good people on both sides of this thing, but we have to be able to put ourselves in the other person's shoes. If you're a hunter, if you're a sportsman—if you have a gun in your house for protection—you've got to understand what it feels like for that mom whose son was randomly shot.
Here Obama is avowedly trying to build a bridge of understanding between gun owners and gun controllers. Yet his implicit message is that while guns may be fine for you country folk, they have no place in crime-plagued cities like Chicago—i.e., exactly the setting where the need for amed self-protection is strongest. This is the sort of attitude that turns off Obama's potential allies on gun control. "I'm for stricter gun laws," another poll participant told the Times, "but the reason I favor the Republicans over the Democrats and the liberals on gun laws is because they have always been against the Second Amendment and the right to own guns." In short, supporters of the Second Amendment do not trust Obama because he is not trustworthy.
The results of the New York Times/CBS News poll are here.