Obama Administration to Spend Another $8 Million Marketing ObamaCare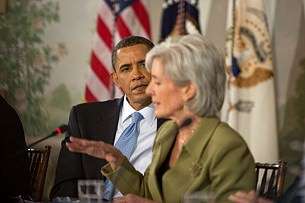 The Obama administration has already agreed to spend at least $23 million on public relations and marketing for ObamaCare. And now it says it's about to spend $8 million more.
There's a bit of backstory here. Last May, the Health and Human Services Department confirmed that it had cut a deal to pay PR firm Porter Novelli $20 million to help advertise the law's preventive care features. That may not be a great use of money given that most studies have found that those supposedly "free" preventive services actually end up costing more than they save.
Then last October, HHS announced that it would spend another $3 million with a separate PR firm to promote the law's health insurance exchanges. That money was supposed to go toward advertising the coverage benefits people could be eligible for through the exchanges.
HHS seems to think that first $3 million was a pretty good investment. The Hill reports that the agency just announced that it signed an agreement to spend another $8 million—with the option to spend more—further promoting the exchanges.
I'll give the folks at HHS this: They could probably use some effective marketing. But maybe they ought to consider scaling back a bit, and work more on trying to raise awareness about the law's benefits with Sen. Max Baucus? When you've already spent $3 million promoting ObamaCare's exchanges, and yet the senator who claims to have written the bill on which the law was based thinks those exchanges are about to be a "huge train wreck," you kind of have to wonder whether the agency is really getting much value out of its marketing budget.