Boston Reopens, Kind Of
Stay indoors request lifted, suspect still at-large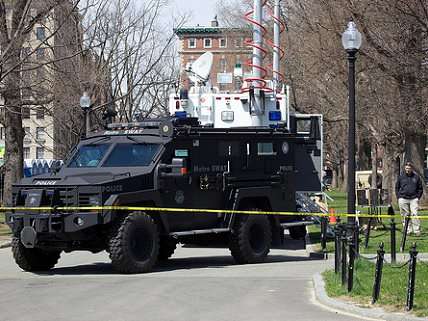 The "stay indoors" request for parts of Boston has been lifted and public transit service has been restored after a day spent on "lockdown" while police searched for the Marathon bombing suspect, who remains at-large. Tonight's home games for the Bruins and the Red Sox, however, remain cancelled.
The day's exercise could cost up to $333 million in lost business, according to BusinessWeek, which also notes that the Dunkin Donuts stayed open per request from law enforcement.
President Obama visited Boston for an interfaith prayer service, telling the city it was the wrong one to pick for a bombing. Boston last faced a shut down like today's when props from an Adult Swim marketing campaign were mistaken for bombs in 2007.