Uh-Oh! Building ObamaCare's Health Exchanges Has Already Cost Double the Expected Amount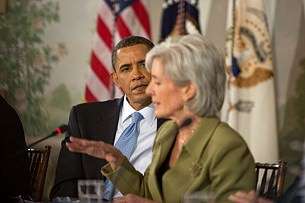 Here's another ominous sign for ObamaCare's future: The Department of Health and Human Services admitted yesterday that setting up the law has cost twice as much as expected so far. And you can't really blame Republican opposition for the overrun: That's just accounting for the cost of building exchanges in states that said they want to run them.
Here's The Hill with the report:
The Health and Human Services Department (HHS) said in budget documents Wednesday that it expects to spend $4.4 billion by the end of this year on grants to help states set up new insurance exchanges. HHS had estimated last year that the grants would cost $2 billion.

The department also is asking Congress for another $1.5 billion to help set up federally run exchanges in states that do not establish their own.
Just because HHS is asking for the money, of course, doesn't mean it's going to get it. So if not, then what? The HHS has promised it will, er, do something—something!—to make it all work. But it won't say what. At least not yet:
HHS Assistant Secretary for Financial Resources Ellen Murray punted Wednesday when asked about the consequences if Congress also denies the new request.

The department is "determined to make them work," she said of the exchanges.
A big chunk of the grant money doled out so far went to California. It has reportedly received $909 million in federal funding to build its exchange. But even with the hefty funding it's not going smoothly. The state's insurance regulators have warned that residents should expect "rate and market disruption" when the state's health insurance exchange opens.