North Korea Announces Re-opening of Nuclear Reactor, Insists It Won't Sell Nuclear Weapons to Anyone
White House says latest from North Korea part of a pattern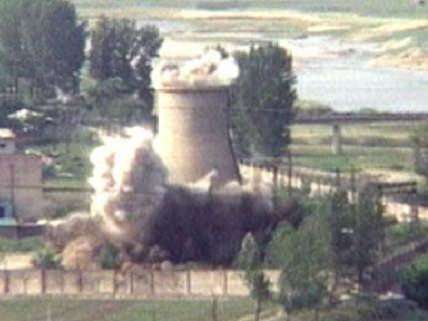 Kim Jong Un announced North Korea would be re-opening its nuclear reactor at Yongbyon, telling the Central Committee the country would keep building a nuclear arsenal "because imperialists keep threatening us with their nuclear forces."
The facility's cooling tower was publicly demolished in 2008 after multilateral talks with the U.S. that also led to the country being taken off the U.S. list of states sponsoring terrorism (currently made up of Cuba, Iran, Sudan and Syria). North Korea has been making threats and conducting missile tests since Kim Jong Un took over after his father's death in December 2011. The U.S. has largely responded through the United Nations, condemning regrettable provocations and warning of consequences. U.S.-South Korean military exercises have continued in the region. The White House called North Korea's latest announcement part of a "pattern of violating its international obligations."
A North Korean statement, meanwhile, called the country's nuclear arsenal a "treasure" that could not be sold even for "billions of dollars," while simultaneously insisting the program wasn't going to be a "bargaining chip." (North Korea is starving, so it is)
For his part, Ban Ki-moon, the U.N. Secretary General and career South Korean diplomat, said in a press conference earlier today in Andorra the situation had already "gone too far," that "nuclear threats are not a game" and "things must calm down."
Even if everyone's talking at each other and not to each other, at least they're not shooting at each other. Nevertheless, North Korea remains a hellhole. Watch an interview by Reason TV with Shin Dong-hyuk, who was born in and escaped a North Korean prison camp: