Top Calif. High-Speed Rail Mastermind Turns Against the Monster It Has Become
Boondoggle no longer resembles what Californians voted for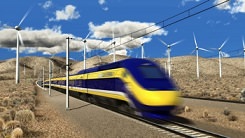 Former State Senator Quentin Kopp founded the California High-Speed Rail Authority (CHSRA) years ago, once served as its chairman, and pushed for the passage of the ballot initiative in 2008 that gave the state authority to issue about $10 billion in bonds to build it.
Now he's trying to stop it.
Kopp is serving as an expert witness in one of the lawsuits against California's rail projects, arguing that the train the state is actually attempting to build bears little resemblance to what the ballot initiative authorized. It's a truth that everybody knows, but CHSRA seems intent on trying to ignore. Dan Walters at the Sacramento Bee explains how two recent decisions by the rail agency may be in violation of the initiative voters passed:
The authority's five-member board voted unanimously to approve an agreement with the Peninsula Corridor Joint Powers Board to design a "blended" system in which local commuter trains and the bullet train would share rails on the San Francisco Peninsula.

Merging the two services is designed to placate project opponents in the high-income neighborhoods on the peninsula. But opposition remains and critics say that a blended system cannot meet the bond measure's requirement that the bullet train carry passengers between San Francisco and Los Angeles in two hours and 40 minutes.

The board also approved a request to state financial officials to issue up to $8.6 billion in bonds to provide construction money for the 130-mile San Joaquin Valley segment and future construction as needed. But that project, critics also allege, would not meet the bond measure's requirement that any construction be a "usable segment."
Kopp described to FOX LA the money being gobbled up to improve commuter rail as a "great train robbery":
These two commuter systems in the LA basin and on the San Francisco peninsula simply seized a billion dollars each. And they're using it to improve commuter systems. That's not high-speed rail.
Followers of the rail politics may recall that without the additional commuter rail money Gov. Jerry Brown dangled in front of resistant Senate Democrats, the project would likely have died last July. As it was, it squeaked through the State Senate by a single vote.
For rail opponents, it seems as though the courts are the last chance to actually stop the project from actually breaking ground. There's no sign that any more funding is going to materialize to build more than the first leg at this point, but there's also little sign that either the governor or the legislature are changing their minds about the whole thing.
A disclosure: Adrian Moore, vice president of policy for the Reason Foundation (the non-profit organization that publishes this site), is also providing expert testimony in the lawsuit, contradicting CHSRA's claims that the project complies with the intent of the voters who approved the bond.