American Military Aid to First World European Country Fighting War in Africa Increasing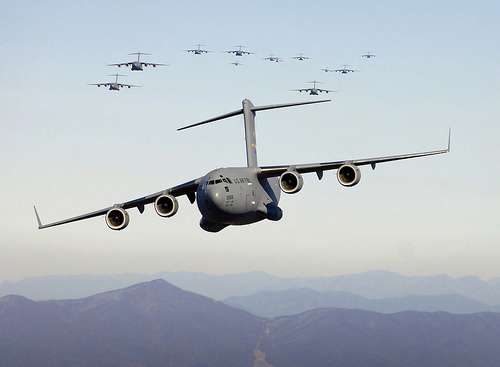 The U.S. military is increasing the level of support being given to the French as they continue to fight Islamic militants in Mali.
From the Associated Press:
Through last week, Air Force C17 Globemasters had flown 47 missions to Mali, ferrying 975 French troops and more than 1,200 tons of equipment and supplies to the fight against Al Qaeda in the Islamic Maghreb rebels for control of northern Mali, according to Defense Department figures.

The Air Force had also flown 83 refueling missions delivering more than 544,000 gallons of gas to French Rafale and Mirage attack aircraft in close air support of French and Chad troops.

In March, President Obama authorized $50 million in "immediate military assistance to Chad and France in their efforts to secure Mali from terrorists and violent extremists." The State Department has also committed $6.6 million to support free elections in Mali.
The AP also reports that last week Army Gen. Carter Ham, the head of U.S. Africa Command said that U.S. aid given to the French for their mission in Mali would not include American forces being used in combat. Gen. Ham also said that American drone intelligence gathering operations launched from a base in Niger have been taking place in Mali.
Three days after the White House warned that the sequester would hurt ordinary Americans the president released $50 million dollars worth of military aid to Chad and one of the richest nations in Europe to assist with their war in Mali.
The increased U.S. support for the French-led intervention in Mali is only the latest example of how the president's actions do not match his rhetoric. In a speech last month in Newport News, VA the president said the following about the sequester:
So these cuts are wrong. They're not smart. They're not fair. They're a self-inflicted wound that doesn't have to happen.

Now, the reason that we're even thinking about the sequester is because people are rightly concerned about the deficit and the debt. But there is a sensible way of doing things and there is a dumb way of doing things.
I can't help but think that giving tens of millions of dollars to a first world country fighting militants in a third world country who are not a direct threat to the U.S. would qualify as not being a sensible approach to dealing with our deficit and debt. Yet, despite the rhetoric from Democrats and Republicans and our unfortunate fiscal situation American policymakers still feel the need to spend money on unnecessary foreign adventures.