AIDS Group Behind LA Porn Condom Law Goes After First Studio
Somebody's about to get screwed. No, not like that.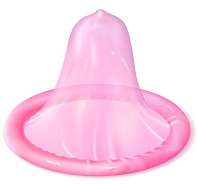 The AIDS Healthcare Foundation, the non-profit masterminds of Measure B, which mandates condoms on Los Angeles-area porn sets and rent-seeking in the form of mandatory HIV transmission training, is going after its first target. Via the Los Angeles Daily News:
In what could be the first test of the new Los Angeles County law requiring the use of condoms in adult film shoots, an AIDS advocacy group has filed a complaint against a Los Angeles porn company for allegedly filming actors having unprotected sex.

The AIDS Healthcare Foundation, which was the driving force behind last year's Measure B, claims it received an anonymous letter alleging that Immoral Productions was producing adult content in which actors were performing in various types of sex acts without the use of condoms.

"Business activities occurring at Immoral Productions pose a substantial risk of bodily harm and life long disability," wrote Mark Roy McGrath, an analyst with AHF, in his complaint letter to the county health department.
The Foundation determined that the studio is not in compliance by visiting their site. McGrath's letter, though, goes on to make other claims against the company that couldn't possibly be determined by visiting the site, like failing to complete the mandatory training and failing to post signs on the set mandating condom use. Those must be the claims in the anonymous letter they've received.
Vivid Entertainment is challenging Measure B in federal court as a First Amendment violation.
The AIDS Healthcare Foundation is also suing the County of Los Angeles, claiming that the county is engaged in a retaliatory campaign against them through audits and by withholding funding, allegedly because the county doesn't want to enforce the condom law. The audit from the county (pdf), dated last August, claims the Foundation overbilled Los Angeles County to the tune of $1.7 million.
Below, our Reason TV video about Measure B from October: