The Status of Gay Marriage and the GOP: It's Complicated
Their evolution is bound to be different from Obama's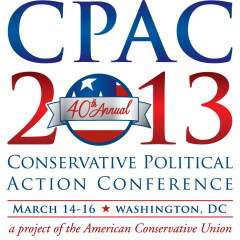 The press coverage for CPAC today has been focused on the caged matchup between senators Marco Rubio and Rand Paul (there was no actual debate between the two men or anything like that, but no force on earth can stop a media narrative once it reaches full speed).
When CPAC comes around, the Republican Party's position on gay marriage ends up on display, and this year was no different. CPAC did not invite conservative gay group GOProud to participate, but they managed to find their way in anyway thanks to a panel put together by the Competitive Enterprise Institute called "A Rainbow on the Right: Growing the Coalition, Bringing Tolerance Out of the Closet."
With more and more Republicans "evolving" along with President Barack Obama on the issue of recognizing same-sex marriages, it's then worth looking at Rubio's and Rand's recent comments.
Rubio addressed the issue directly in his speech today. Philip Klein at the Washington Examiner thinks the language Rubio used indicates a shift within the party:
[I]t was eye-opening to hear Rubio, a major conservative in the Senate speaking at the largest annual gathering of conservatives, declare: "Just because I believe that states should have the right to define marriage in a traditional way does not make me a bigot." …

Just a few years ago, that sentence might have read, "Just because I believe that states shouldn't be allowed to redefine marriage does not make me a bigot."

It's telling how far the gay marriage debate has moved in the direction of its proponents in such a short period of time.
I'm not sure I necessarily agree here. Conservatives and progressives alike tend to have a new appreciation for federalism when their power in Washington wanes. There's a defensive tone to Rubio's comments (you can watch the speech here and judge for yourself). He's defending tradition, not liberty and not the Tenth Amendment. The way he put that sentence together makes me wonder what he would have said if his home state of Florida had legalized gay marriage recognition. Does he also believe states have the right to define marriage in a non-traditional way?
Paul did not discuss gay marriage recognition in his CPAC speech today, but he endorsed the libertarian "get government out of marriage" position in a recent National Review interview:
Social issues are another area where he thinks Republicans can make a better argument to independents and centrists without departing from their principles. Gay marriage, for instance, is one issue on which Paul would like to shake up the Republican position. "I'm an old-fashioned traditionalist. I believe in the historic and religious definition of marriage," he says. "That being said, I'm not for eliminating contracts between adults. I think there are ways to make the tax code more neutral, so it doesn't mention marriage. Then we don't have to redefine what marriage is; we just don't have marriage in the tax code."
While I don't disagree, what I always worry about these arguments is the lack of a path to get from point A to point B. It seems that often the only time the "get government out of marriage" position comes up is when recognition of same-sex marriage is invoked. Paul's response leaves the reader to wonder whether, in the absence of this massive shift in the tax code, he would allow same-sex couple the same level of federal recognition as heterosexuals, regardless off his own traditions.