James Holmes Defense Attorneys Go After Fox News Reporter for Confidential Source
Want to know which law enforcement official told the reporter the contents of a notebook James Holmes sent to his psychiatrist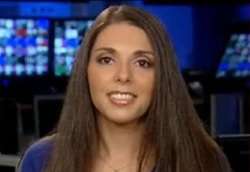 Defense attorneys failed to enter a plea for James Holmes, on trial for the Aurora theater shooting spree. They were considering entering a not guilty by reason of insanity plea, but the judge entered a not guilty plea on Holmes's behalf instead. The news brought to light something else defense attorneys were trying to do: find out who leaked a notebook Holmes sent to his psychiatrist before the shooting. Via the AP:
The judge in the case says he'll hold a hearing the week of April 1 to find out who violated a gag order in the case.

One of Holmes' lawyers said Tuesday that a judge in New York has signed a subpoena for Fox News reporter Jana Winter to testify about her story, which cited unidentified law enforcement officials.

Holmes' attorneys are trying to get Winter to disclose her sources. Her lawyer has said that shield laws in New York and Colorado protect Winter from demands to reveal her sources.
Fox News denied earlier this year that Holmes' defense attorneys had ever tried to contact them for information, and that it would anyway protect the reporter's source:
"Under the New York shield law, a reporter's confidential sources are absolutely privileged, and testimony about those sources cannot be compelled by any governmental body regardless of the purpose for which that testimony is sought," wrote [Fox News attorney Dori Ann] Hanswirth.
The judge is holding the hearing into the notebooks after having declared Winter a material witness in the case. New York's shield law appears to be stronger than Colorado's and Fox News' next move remains to be seen.