Venezuelan Defense Ministry Pledges Army Support for Hugo Chavez Successor in Next Month's Special Election
Chavez was just re-elected last year and had not been publicly inaugurated due to illness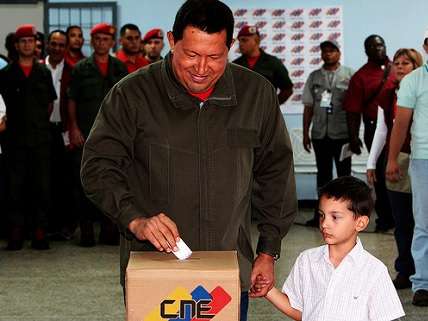 Hugo Chavez has been praised by Congressman Jose Serrano, former Congressman Joe Kennedy, various European leaders, and others. Amazingly, while eulogizing the Venezuelan strongman in The Nation, Greg Grandin, who apparently teaches history at NYU and is a member of the Academy of Arts & Sciences, lamented that Chavez wasn't enough of one:
Chávez was a strongman. He packed the courts, hounded the corporate media, legislated by decree and pretty much did away with any effective system of institutional checks or balances. But I'll be perverse and argue that the biggest problem Venezuela faced during his rule was not that Chávez was authoritarian but that he wasn't authoritarian enough. It wasn't too much control that was the problem but too little.
Intent, perhaps, on fortifying Chavez's strongman legacy, the Ministry of Defense announced the army would be backing Chavez's hand-picked successor, Nicolas Maduro. Via the AP:
In a late night tweet, Venezuelan state-television said Defense Minister Adm. Diego Molero had pledged military support for Maduro's candidacy against likely opposition candidate Henrique Capriles, despite a constitutional mandate that the armed forces play a non-political role.
Related: Rand Paul is currently in his third hour of filibustering (now joined by Mike Lee as well as Ted Cruz) the nomination of John Brennan, during which he explained the protections that exist for rights and minorities in a republic but not a democracy.