Sequestration Sale! Subscribe to Reason for a Whopping 2.3% Off the Regular Price!
What the hell, let's go there: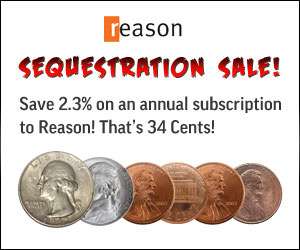 You actually need to click on the link to enjoy your 34-cent savings (let alone activate the hyperlinks), but you get the idea. Give it as a gift to your loved one or frenemy who thinks the sequester is a CIA-like Tea Party coup, or a homelessness generating machine, or merely a teacher-euthanasia experiment. There is only one political magazine like this, ladies and germs, for which we can all be thankful!