Sequester Fearmongering from Obama Administration Goes Beyond the Facts
The Associated Press has an interesting take on how the sequester fearmongering from the Obama adminstration pretends to a knowledge of a scary tomorrow that it does not really have.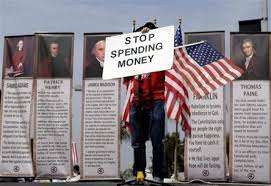 Highlights:
Education Secretary Arne Duncan says teacher layoffs have already begun, but he has not backed up that claim and school administrators say no pink slips are expected before May, for the next school year…

Interior Secretary Ken Salazar said the money crunch means the national parks system will be hit with a "perfect storm."

But perish the thought of yellow police tape around Yellowstone. It's far from settled that parks would close. Officials said to expect reduced operating hours, fewer rangers, bathrooms that might be locked and trash that might not be collected as often….

And there is a lot of improbable precision in administration statements about what could happen: more than 373,000 seriously ill people losing mental health services, 600,000 low-income pregnant women and new mothers losing food aid and nutrition education, 1,200 fewer inspections of dangerous work sites, 125,000 poor households going without vouchers, and much more.

"These numbers are just numbers thrown out into the thin air with no anchor, and I think they don't provoke the outrage or concern that the Obama administration seeks," said Paul Light, a New York University professor who specializes in the federal bureaucracy and budget….

in practice, through all the layers of bureaucracy and the everyday smoke and mirrors of the federal budget, there is rarely a direct and measurable correlation between a federal dollar and its effect on the ground.

That has meant a lot of tenuous "could happen" warnings by the administration, not so much "will happen" evidence.

So it was in Health and Human Services Secretary Kathleen Sebelius' letter to Congress laying out likely consequences of the spending cuts for her agency's operations. She said the sequester "could" compromise the well-being of more than 373,000 people who "potentially" would not get needed mental health services, which in turn "could result" in more hospitalizations and homelessness.

Duncan left himself less wiggle room. "This stuff is real," he said last week. "Schools are already starting to give teachers notices."

Asked to provide backup for Duncan's assertion, spokesman Daren Briscoe said it was based on "an unspecified call he was on with unnamed persons," and the secretary might not be comfortable sharing details…..
Remember the "government shutdown" of the '90s, for some perspective?
In the partial government shutdown during his presidency, Bill Clinton and his officials told some tall tales and sketched dark scenarios that didn't come to pass, though some might have if the crisis had lasted weeks or months longer. The shutdown played out over two installments totaling 26 days from mid-November 1995 to early January 1996.

National park properties closed (yes, even the Washington Monument), passport and federal mortgage insurance processing were disrupted and toxic waste cleanup stalled as hundreds of thousands of federal workers went idle, paid retroactively later. But states, communities and private groups stepped up to tide over the neediest, keeping Meals on Wheels rolling with their own resources, for example, until Clinton found emergency money to cover the costs. Warnings that Medicare treatment would be withheld proved unfounded, and veterans got their care.

Contractors, who perform many key services for government, kept working for IOUs. A claim by the government that deportations "have virtually ended" was not so.

The Justice Department told the story of a Florida gas station rejecting the government-issued credit card of a drug-enforcement agent to illustrate the indignity of it all.

But the reality was humdrum: The card had merely expired.
Matt Welch and J.D. Tuccille on overhyping sequester nightmares.