Another Horrible Effect of Sequestration: Letting 'Noncriminals' Out of Jail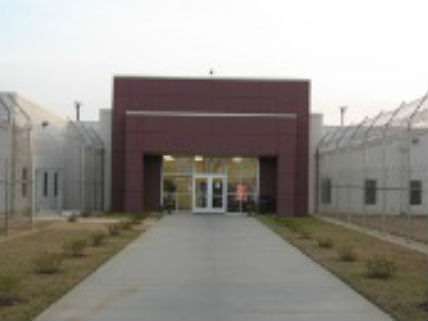 To dramatize the crippling impact that the automatic spending cuts scheduled to take effect this Friday will have on the federal government's ability to perform its most basic functions, the Obama administration has "released hundreds of detainees from [immigration] detention centers around the country in recent days," The New York Times reports. In response to complaints from Republicans such as House Judiciary Committee Chairman Robert Goodlatte, who worries that "the administration is needlessly endangering American lives," a spokeswoman for Immigration and Customs Enforcement (ICE) emphasizes that the people who are being released pose no threat to public safety because they are "noncriminals and other low-risk offenders who do not have serious criminal histories." Which raises the question: Why were they locked up to begin with?
In addition to the needless loss of liberty and all the attendant burdens on detainees and their families, there are taxpayer costs to consider. According to the National Immigration Forum, keeping someone facing deportation proceedings behind bars costs $122 to $164 a day, compared to anywhere from 30 cents to $14 a day for supervised release. According to a private contractor that helps monitor detainees on supervised release, "96 percent of immigrants enrolled in ICE's alternatives-to-detention program attended their final hearing in 2011." Immigration activist Carolina Canizales observes that "it shouldn't take a manufactured crisis in Washington to prompt our immigration agencies to actually take steps towards using government resources wisely or keeping families together."
Will sequestration force the government to free even more people who are locked up only because they dared to live and work in the United States without official permission? Surely that outcome is too horrible to contemplate. What's next? Will the government's financial desperation result in the release of federal prisoners serving long sentences for engaging in other consensual transactions that violate no one's rights? That would really be awful.
Jesse James Conto toured our scandalous immigration detention system in the July 2011 issue of Reason.