Michelle Obama Presented the Best Picture Oscar Because They Watch Movies at the White House All The Time
Argo beat out Zero Dark Thirty, Lincoln, other films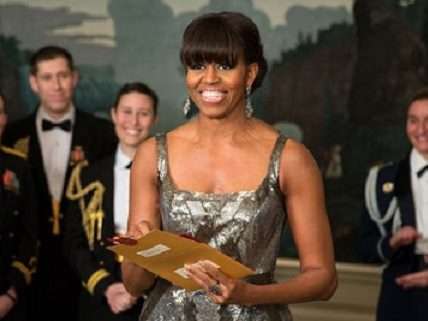 If you watched the Oscars last night and made it to the end, you caught Michelle Obama presenting the Best Picture Oscar live from the White House, complete with members of the military behind her. The winner was Argo, a movie about a CIA rescue during the Iran hostage crisis. Apparently film mogul Harvey Weinstein, a big Obama donor, arranged the appearance. Via The Hollywood Reporter:
According to Academy president Hawk Koch, the plan came from Weinstein and his daughter, Lily. Koch and Oscar show producers Craig Zadan and Neil Meron loved the idea. And when it was pitched to the first lady, Zadan told The Hollywood Reporter that her response was, "Yes, I think it's a great idea. We watch movies all the time at the White House. Let's do it."
Deadline.com's Nikki Finke called the presentation Hollywood's "payoff for all the campaign donations it gave the President's re-election campaign" and a "very obvious attempt to infuriate right-leaning audiences."
But getting Michelle Obama to announce the Best Picture winner wasn't enough for Harvey Weinstein, who reportedly also turned to former Obama campaign advisor Stephanie Cutter to help make the case for Best Picture to go to Silver Linings Playbook. Obviously it didn't. And while TMZ reports the obvious, that the first lady wasn't the first person to open the Best Picture envelope, the Washington Post's Jennifer Rubin wished Obama had to announce another winner:
[I]t would have been grand if the lefty-maligned "Zero Dark Thirty" (which showed the nasty interrogation techniques her husband deplored) had won Best Picture. Unfortunately, that sort of perfect karma happens only in the movies.
Though presumably for the Administration that made "we killed bin Laden" a clarion call for re-election, the cognitive dissonance wouldn't be as disturbing.