Detroit Property Owners Voting with Their Middle Fingers
Nearly half aren't paying their overinflated property taxes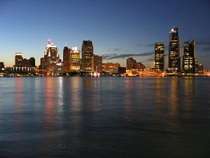 Almost half the property owners in Detroit aren't paying their tax bills. The Detroit News went through the city's property records and did the math:
Nearly half of the owners of Detroit's 305,000 properties failed to pay their tax bills last year, exacerbating a punishing cycle of declining revenues and diminished services for a city in a financial crisis, according to a Detroit News analysis of government records.

The News reviewed more than 200,000 pages of tax documents and found that 47 percent of the city's taxable parcels are delinquent on their 2011 bills. Some $246.5 million in taxes and fees went uncollected, about half of which was due Detroit and the rest to other entities, including Wayne County, Detroit Public Schools and the library.

Delinquency is so pervasive that 77 blocks had only one owner who paid taxes last year, The News found.
It's easy to imagine progressives seizing on this information as some sort of proof that Detroit's disastrous financial problem is due to those selfish property owners not paying their due to keep the city running. But really it appears to be a self-perpetuating cycle of dissatisfaction with the services – or rather the lack of services – property owners are getting from the city:
Many of those who don't pay question why they should in a city that struggles to light its streets or keep police on them.

"Why pay taxes?" asked Fred Phillips, who owes more than $2,600 on his home on an east-side block where five owners paid 2011 taxes. "Why should I send them taxes when they aren't supplying services? It is sickening. … Every time I see the tax bill come, I think about the times we called and nobody came."
Oh and furthermore, not only are they getting no service from the city, they're being overcharged on their property taxes, too:
Detroit has the highest property taxes among big cities nationwide and relies on assessments that are seriously inflated. Many houses are assessed at more than 10 times their market price, according to new research from two Michigan professors.
A state review team has declared Detroit to be in a state of financial emergency, but is currently recommending against declaring bankruptcy.