Virginia Cop Who Shot Sunday School Teacher Patricia Cook Faces Only Three Years in Prison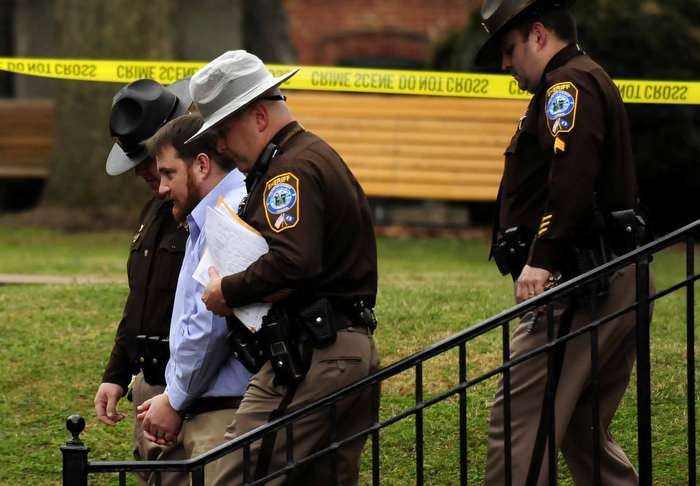 A year ago this week Officer Daniel Harmon-Wright killed 54-year-old Patricia Cook in the parking lot of Epiphany Catholic School in Culpeper, Virginia, for the crime of driving away when he tried to question her. Last week, Harmon-Wright was convicted of manslaughter. On Friday, a jury recommended he serve three years in prison.
On Feb. 9, 2012 Harmon-Wright was dispatched to find out why Cook would not leave the Epiphany Catholic School's parking lot. When Cook rolled up her window during questioning and began to drive away, Harmon-Wright fired two shots point blank, striking Cook in the face and the arm. As Cook drove away, Harmon-Wright fired through the back window, striking her in the head, the spine, and the heart. The last shot killed her and sent the Jeep careening into a telephone poll.
Judge Susan Whitlock will sentence Harmon-Wright in April. According to the Associated Press, Whitlock "can reduce the prison time but not increase it." That's a pretty sweet deal for Harmon-Wright considering a.) the charges against him were murder, malicious shooting into an occupied vehicle, malicious shooting into an occupied vehicle resulting in a death, and use of a firearm in the commission of a felony, and b.) the maximum penalty he faced was 25 years.
Harmon-Wright's defense was that he had to shoot Cook; the first two times because she trapped his arm in her window, the next five times because she continued to drive with her vision obscured by a sun-shade. That defense apparently worked on the jury despite testimony from eyewitnesses who claimed Harmon-Wright had one hand on the door handle and the other on his gun when he first started firing, and that he ran after Cook's car in order to keep shooting at her. In other words, while Harmon-Wright said he feared for his life, the only other people to witness the incident said that was never, ever the case.
There are still some unanswered questions, such as why Cook, a childless Methodist, refused to leave the parking lot of a Catholic school; and what Harmon-Wright said or did to scare Cook, whose last run-in with the law was a speeding ticket in the 1970s. But now that Harmon-Wright has been convicted, the more pressing question is why he was hired at the Culpeper Police Department in the first place.
Soon after Harmon-Wright was arrested, it was revealed that he had a tarnished military record, a drinking problem, and a history of harassing Culpeper residents. The first two problems nearly kept him from getting the job, and no one at the Culpeper Police Department will say why they didn't.
I'm also trying to find out what Harmon-Wright's conviction means for the $5.35 million wrongful death suit filed by Cook's husband. Gary Cook died four months after filing, and Patricia Cook's younger brother is now acting as his sister's representative.