Bob Menendez's Alleged Underage Prostitution Scandal
Not looking like it's going away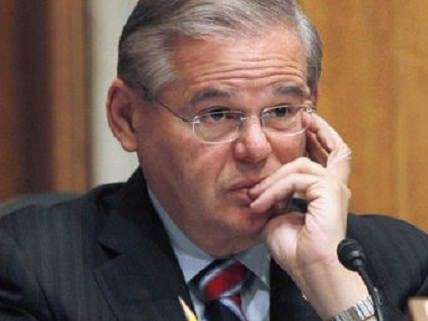 The claim that Senator Bob Menendez (D-NJ) frequented underage prostitutes in the Dominican Republic first emerged just a few days before the 2012 election. It didn't get much coverage in the local press and didn't make a difference in the Democratic-leaning state; Menendez was re-elected by a nearly twenty point margin. The original allegations came from two Dominican women, via the Daily Caller, who also said they were short shrifted, getting paid $100 instead of $500. Menendez denied the allegations, but refused to release travel records that might refute them. Instead his spokesperson called the allegations "completely false."
Now the FBI is involved, having raided the eye doctor alleged to be the donor that funded the trips to the Dominican Republic and even the underage prostitutes, though it's not clear whether Mendendez is a target of the investigation as well. Nevertheless the FBI raid yielded a fresh denial of the allegations and an announcement from Menendez that he's reimbursed the eye doctor for three trips to the Dominican Republic he took on the man's plane in 2010.
The magazine New York, though seemingly dismissive of the allegations, adds a few details:
[The FBI] raid coincides with a guilty plea by a New Jersey man who admitted yesterday to making more than $20,000 in illegal donations to Menendez from 2005 to 2008. "Senator Menendez's campaign, a victim of the fraud that ensued, cooperated fully with the investigation," said his former campaign manager. "After the first guilty plea was entered, Sen. Menendez donated the campaign contributions in question to two charities … At that point, Senator Menendez considered the matter, as far as he was concerned, closed."

The bumps are compounded by yet another recent Menendez mini-scandal, in which an unpaid intern in his office was found to be an undocumented immigrant and registered sex offender, but wasn't arrested until after the election. (Homeland Security said it was "categorically false" that the arrest was delayed for political purposes.) Up to this point, none of it has touched Menendez, but you know what they say about keeping certain company.
New York has the latest denial from Mendendez's office: "Any allegations of engaging with prostitutes are manufactured by a politically-motivated right-wing blog and are false."