Breaking: Shooters on Texas College Campus Wound at Least Two People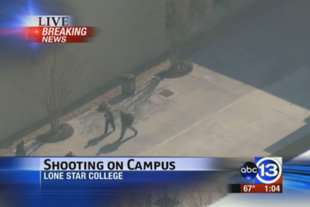 Via Yahoo News:
At least two students were shot at Lone Star College in Texas on Tuesday.

According to Jed Young, a spokesman for the school, the shooting "involving two individuals" took place shortly before 12:30 p.m. local time. Two students were shot in the crossfire, the spokesman said, and at least one of the suspected shooters was shot and taken into custody. The extent of their injuries were not known. A second shooter fled the campus, the spokesman said.

It's unclear if the suspected shooters were students at the school.