Soldier Stationed in Hawaii Shot and Killed by Cops
Incident started at 4am outside a nightclub in Honolulu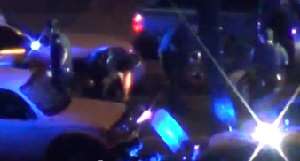 The Army confirmed an enlisted soldier belonging to the 25th Infantry Division was shot and killed by police officers in Honolulu. From the Star Advertiser:
Police officers shot and killed a Schofield Barracks soldier who apparently drove recklessly through the streets of Waikiki and was shot by responding officers on Ala Wai Boulevard early this morning.

Three officers were treated for minor injuries and then released, police said at a news conference today.

The incident began just before 4 a.m. and involved two shooting scenes, one on Kuhio Avenue near Nahua Street, and the final location on Ala Wai Boulevard near Seaside Avenue.
Police say the incident began when cops noticed the soldier speeding the wrong way down a street. They say the soldier tried to hit an officer with his truck (the first shooting scene) and that afterward the soldier rammed his truck into several patrol vehicles, with five being damaged. The soldier was taken to the hospital after being shot and died there. Two officers were placed on three-days administrative leave.No comment yet from the Army except to confirm the individual was an enlisted soldier.