Happy Religious Freedom Day to One and All!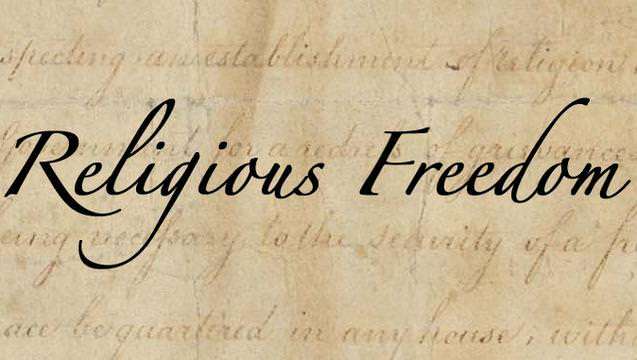 On January 16, 1786, the Virginia General Assembly passed the Virginia Statute for Religious Freedom, promulgated by Thomas Jefferson. The last three presidents of the United States have marked each January 16th as Religious Freedom Day. The words of the Statute of Religious Freedom continue to inspire:
That all attempts to influence it by temporal punishments or burthens, or by civil incapacitations tend only to beget habits of hypocrisy and meanness, and therefore are a departure from the plan of the holy author of our religion, who being Lord, both of body and mind yet chose not to propagate it by coercions on either, as was in his Almighty power to do,

That the impious presumption of legislators and rulers, civil as well as ecclesiastical, who, being themselves but fallible and uninspired men have assumed dominion over the faith of others, setting up their own opinions and modes of thinking as the only true and infallible, and as such endeavouring to impose them on others, hath established and maintained false religions over the greatest part of the world and through all time;

That to compel a man to furnish contributions of money for the propagation of opinions which he disbelieves is sinful and tyrannical….

…that Truth is great, and will prevail if left to herself, that she is the proper and sufficient antagonist to error, and has nothing to fear from the conflict, unless by human interposition disarmed of her natural weapons free argument and debate, errors ceasing to be dangerous when it is permitted freely to contradict them:

Be it enacted by General Assembly that no man shall be compelled to frequent or support any religious worship, place, or ministry whatsoever, nor shall be enforced, restrained, molested, or burthened in his body or goods, nor shall otherwise suffer on account of his religious opinions or belief, but that all men shall be free to profess, and by argument to maintain, their opinions in matters of Religion, and that the same shall in no wise diminish, enlarge or affect their civil capacities…..
On the occasion, President Barack Obama's proclamation today declares:
Because of the protections guaranteed by our Constitution, each of us has the right to practice our faith openly and as we choose. As a free country, our story has been shaped by every language and enriched by every culture. We are a nation of Christians and Muslims, Jews and Hindus, Sikhs and non-believers. Our patchwork heritage is a strength we owe to our religious freedom.
The United States was not founded as a Christian nation, but as a nation that honors the freedom of conscience of its citizens
See also my colleague Nick Gillespie's appreciation of Roger Williams, founder of Rhode Island who in 1636 fled Puritan Massachusetts …
…with his wife and children, wandering the frozen New England landscape for weeks before buying property from Indians and settling Providence, a city dedicated to "Liberty of Conscience," or true religious freedom. Indeed, even as Williams helped establish the first Baptist congregation in the colonies, he worked to guarantee civil rights for nonbelievers. Later, he would provide a haven for another great religious dissenter, Anne Hutchinson, after her banishment from Massachusetts, and secure a royal charter for what became Rhode Island–the first such English grant to articulate fully secular government.
Happy Religious Freedom Day!