I Wish I Had Used My Retirement Money to Buy Guns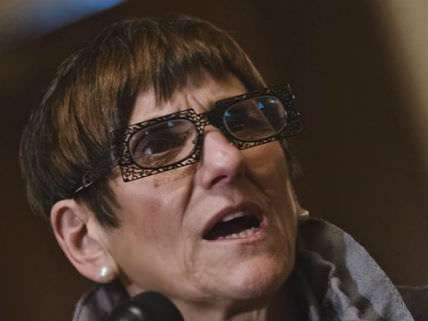 On Saturday The New York Times noted that gun sales, which have been on the rise since Barack Obama was first elected to the White House, are booming in response to all the talk of new restrictions following the Sandy Hook massacre. In particular, rifles with military-style features and magazines holding more than 10 rounds are flying off gun store shelves, pushing up prices in anticipation of federal bans on "assault weapons" and "large-capacity ammunition feeding devices." Just talking about reducing the number of scary-looking weapons in circulation, it turns out, has the opposite effect:
December set a record for the criminal background checks performed before many gun purchases, a strong indication of a big increase in sales, according to an analysis of federal data by the National Shooting Sports Foundation, a gun industry trade group. Adjusting the federal data to try to weed out background checks that were unrelated to firearms sales, the group reported that 2.2 million background checks were performed last month, an increase of 58.6 percent over the same period in 2011. Some gun dealers said in interviews that they had never seen such demand.

"If I had 1,000 AR-15s I could sell them in a week," said Jack Smith, an independent gun dealer in Des Moines, referring to the popular style of semiautomatic rifle that drew national attention after Adam Lanza used one to kill 20 children and 6 adults at a Newtown school. "When I close, they beat on the glass to be let in," Mr. Smith said of his customers. "They'll wave money at me."

Mr. Smith said many people were stocking up on high-capacity magazines in anticipation that they might be banned. Two weeks ago, he said, a 30-round rifle magazine was $12, but it now fetches $60. Popular online retailers were out of many 20- and 30-round rifle magazines….

Dale Raby, who manages one of two Gus's Guns shops in Green Bay, Wis., said his inventory of guns and ammunition was almost cleaned out, and that most of the interest was in AR-15-style rifles….

Joel Alioto, 44, an Iraq war veteran who lives in the area, said he recently sold an AR-15 rifle at a gun show for $1,700, more than three times what he had paid for it.
Maybe Alioto should have waited. Rep. Rosa DeLauro (D-Conn.) is proposing a $2,000 refundable tax credit for people who turn in their "assault weapons." That is twice what brand-new AR-15-style rifles are selling for at Cabela's.