Illinois Punts on Pension Reform While Governor Flails Around Haplessly
Whines about "political timidity" while failing to organize a solid solution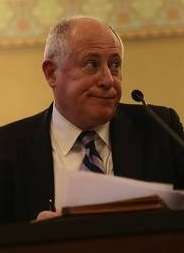 Democratic Illinois Gov. Pat Quinn seems bound and determined to make us all retroactively impressed with what little public employee pension reform California Gov. Jerry Brown was able to push through in August.
Quinn had pretty much already hot-potatoed the state's enormous ($100 billion and rising) unfunded state employee pension crisis to voters with a website and video begging them to call legislators to demand that they do something or other.
This week marked the end of the term for serving Illinois legislators and the transition to the new crop, which, like California, will result in a Democratic supermajority. Would Quinn manage to accomplish anything at all before the session ended? Not with leadership like this (via Tuesday's Crain's Chicago Business column by Greg Hinz):
As he has in the past, Mr. Quinn in comments to reporters stressed the importance to the state's economy of doing something to shore up pension funds that now collectively are nearly $100 billion short of the assets they'll need to pay promised benefits.

"The important thing is working for the public interest, the public good," Mr. Quinn said. "We have to have the goal of putting the state on sound financial footing right away. . . .We cannot allow our state economy to be held hostage by political timidity."

But asked directly what he is for, Mr. Quinn said only: "I'm for erasing the pension liability. I've laid out plan after plan . . . (and I'm for) anything that gets us there."
Republicans have charged that negotiations are stalled because, in part, the Democratic governor has not pushed for a specific vote on a specific bill.
Ultimately nothing happened. A modest reform plan to freeze cost-of-living increases and require employees to pay more into their own pensions failed, and the problem was punted to the next legislature.
Now it appears as though Quinn wants to formally wash his hands of the whole problem by creating a commission to deal with it. As the Illinois Policy Institute notes, such a solution would delegate lawmaking and possibly tax increases to an unelected and unaccountable commission. Ah, that's a solution Californians are quite familiar with as well.