The Secret War Against House Speaker Boehner: Led by Amash
National Review's Robert Costa has some from-the-House-floor gossip about the ultimately feckless, and apparenlty not diligently planned or executed, mini-revolt against re-electing John Boehner as Speaker of the House yesterday. I blogged yesterday about how Justin Amash and some other Ron Paul-endorsed, liberty-minded Congressmen did not vote for Boehner.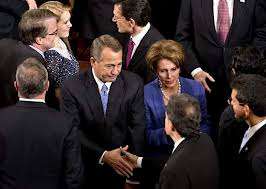 Highlights from Costa:
Members say the rebellion was mostly a project of the libertarians (Justin Amash of Michigan and Walter Jones of North Carolina) and a clique within the Jordan-affiliated RSC, especially members of the class of 2010 (Mulvaney and Labrador) and their allies. It was never something that involved widespread outreach. "I only heard about it from a reporter," says Phil Gingrey of Georgia, a longtime figure in conservative circles. "That was a real mistake," acknowledges a House Republican staffer involved with the coup attempt. "My boss didn't say much to anybody beforehand. They were thinking that maybe they could help Eric Cantor or someone else find a way to win."

….The height of the tension came when the number of defections was at nine, and the number of abstentions or no-shows was at eight, meaning the magic number of 17 anti-Boehner votes [which would have lead to a second-round] was a possibility…

The plot against Boehner was promptly dashed when the conservatives who had missed the first roll emerged from the cloakroom. Michele Bachmann of Minnesota, a former presidential candidate, and Marsha Blackburn of Tennessee, two members often seen on cable TV, slowly strolled down the aisle and waited for the vote to be called again — and they both voted for Boehner. That possibility of 17 suddenly disappeared…
Costa says that the rebels never consulted with Eric Cantor of Virginia, a likely possibility for winning if Boehner, embarrassed by the no-confidence, stepped down. And, surprise!, establishment folk like the whip and Paul Ryan, Costa reports, were annoyed there was any show of defiance to Boehner at all.
Jones and Amash agreed that they didn't really care about winning the gavel, but they wanted to bloody Boehner's nose, and stick up for the libertarian wing of the House Republican caucus. Their votes weren't even coordinated — Amash voted for Labrador, and Jones voted for David Walker, a former comptroller general.
Washington Post collates all the anti-Boehner rebels' votes.
I have an interview with three of the rebels, Amash, Ted Yoho (Fla.) and Thomas Massie (Ky.) in the forthcoming March issue of Reason.